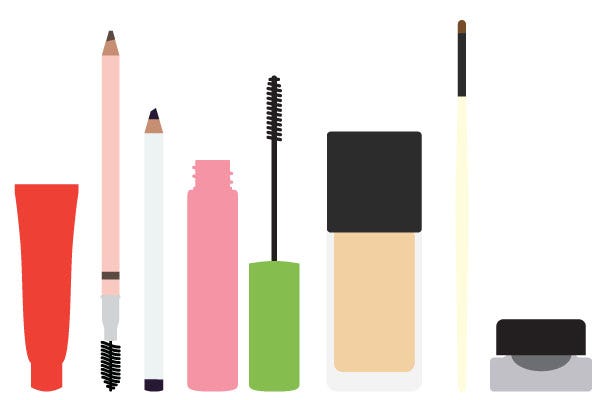 Illustrated by Isabelle Rancier.
There's no topic in the beauty industry more polarizing than
chemical cosmetics
. While some think parabens and other synthetically manufactured ingredients are no big deal in their makeup, there are plenty of others who make the claim that processed materials have no place in our lipsticks. No matter what side you land on, though, it's a good idea to check out
Fashionista
's post on the matter. The ladies over there took a good, hard look at the natural movement from all sides, and their findings were pretty intriguing.
One of the more interesting points (one that we had actually never considered) is how the backlash against parabens may actually be making our products more harmful. Although there is no scientific evidence that directly links (key phrasing there) parabens to any health concern, cosmetics companies know it's a scary buzzword among their consumers. So, before finding alternative preservatives, they'll pull parabens from their products.
Good idea, right? Not always. Pull your preservative and you're opening the door to an increased risk of microbial contamination in products. In fact, natural brand Badger — which keeps parabens out of its products — had a massive sunscreen recall in 2013 because of microbial contamination.
Now, the post doesn't claim that parabens should be present in all of our products (and we agree — no need to go overboard). But, it does point to a bigger issue. We rely on synthetics to keep our products safe, but not everyone is happy with synthetics. Still, instead of finding alternative preservatives, we simply ditch the chemical ones and call it a day. We'd like to see the natural community and the cosmetics industry putting resources into finding a preservative that makes both sides happy. Then, maybe, we could make a little headway on the whole "natural or not" debate.
Fashionista's post covers many aspects of the safe-cosmetics movement, so head over there to read more. You may start to see the debate in an entirely different way. (
Fashionista
)

Like this post? There's more. Get tons of beauty tips, tutorials, and news on the Refinery29 Beauty Facebook page!