Here's a shocker for you guys:
We like nail polish.
We know, we totally just blew your minds right there with that news, didn't we? And like any good polish hounds, we've tried a plethora of lacquers in all sorts of finishes, hues, and application methods. While we all have our favorites, there is one brand we just keep going back to, again and again:
Rescue Beauty Lounge
.
Created by the stylish and sassy Ji Baek, RBL offers one of the most diverse, yet still chic and sophisticated line-ups of polishes we've ever had the pleasure of painting on our digits. We caught up with Baek to get a peek into her process, find out her thoughts on nail trends, and her best manicure tips. Read on and be prepared to fall majorly in love with these lovely lacquers (and the even lovelier lady behind them).
How did you get your start in the industry?

"Like every clichéd entrepreneur, I decided to create something I couldn't find. I felt frustrated by my own endless search for the perfect pedicure, one that is clean, healthy, and in a chic environment. My husband and I created Rescue Beauty Lounge, the first dedicated hand and foot spa in New York City. Our first location opened its doors in 1998 and Rescue Beauty Lounge nail polishes were launched in 2002. Three locations later, in 2011, we decided to retire from the service industry as well as our brick-and-mortar outlets. I now hide blissfully in my studio, mixing colors and selling our products exclusively on our website."

Why nail polish?
"I'm seduced by the democracy of nail polishes. They are size-less, ageless, genderless, and race-less. Nail polish is a quick, fairly inexpensive way to wear trendy colors — you can always add a splash of the 'It' color on your nails. I'd rather buy a bottle of bright yellow nail polish than invest in a bag that I will only wear for one season. Nail polish also makes me grin from ear to ear; I love that I can help provide the 'me' time for people to chill out and do their nails — this is the ultimate meditation, ever."


What were you hoping to bring to the industry?
"I'm big on education, hence it took me 2 ½ years to write my book,
Rescue Your Nails
. My biggest quest was to maintain a clean environment for nails. We used to sterilize our metal tools in hospital-grade sterilizer and dispose our non-metal tools after each use. It was an expensive way to run a business, but it was the best way. Many of our clients sobbed out loud when we closed."
Talk to us a bit about your creative process — how do you dream up these unique colors? What inspires you?
"Everything in this wondrous life inspires me. I start each nail polish collection similarly to how a fashion designer would start his or her seasonal collection. It's a long process, which includes intense research. Sometimes I may come up with three boards full of words and imagery. I then convey these boards into stories, and then slowly, I'm able to find one cohesive collection. That's when my playtime with pigments begins and I eventually come up with the right colors, although I do have drawers full of rejects."


Photo: Courtesy of Ji Baek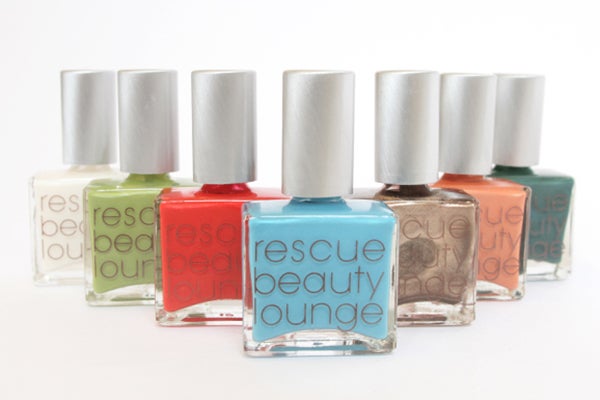 One of the most innovative things about RBL polishes is your use of shimmer. You tend to combine gorgeous colors with contrasting shimmers for a unique effect. Can you talk about that?
"I have a genuine love and respect for colors. I guess it comes from the fact that I hand-mix all of my colors. My lab matches the colors precisely in our formula. This process can take months and months and sometimes more than a year. Of course, I don't ever stop until the pigments and textures are perfect. But what is the point of making a product if a buyer can't apply his or her own polishes? The application and formula are just as vital as the colors. I'm all about DIY, at-home nail care — getting your nails done at the salon is so 2007."

Another distinguishing trait about RBL is how tuned in you are to everything — fashion, culture, art — and use that as an inspiration for your collections. Why do you think it's important to break outside the "trend" box, and what's your beef with trends?
"I have no beef with trends whatsoever, I promise! I live for people, places, and things. My rebellious soul leads me outside of boxes for many of the things in my life. It's true: Nail polishes are such a hot product now, and everyone is on the bandwagon. It's extremely challenging to come up with unique colors in this saturated market. I just do what I always do — listen to my heart and my gut instinct. I think it helps that I sincerely love what I do."
What is your advice to any budding nail enthusiasts who want to get into this industry?
"The best investment I ever made was enrolling in nail school to obtain my license. You learn so much truly valuable information about nails. I wouldn't have been such a stickler about developing my formula unless I had known about the texture and chemistry of nails."
What's your favorite shade you've ever created and why?
"It's impossible to choose just one, but if I were stranded on a desert island? I would have to bring my five core colors: Chinoise, the perfect red; Coral, the juiciest modern coral; Grunge, my go-to neutral with an edge; Plie, the best neutral pinkish opaque; and Cerise Noire, a sexy black cherry."

What's your best manicure tip?
"To prolong the life of your polished nails, never skip a basecoat and topcoat."

What's your number one nail pet peeve?
"Have fun with colors and take some risks. Don't pigeonhole yourself by labeling yourself. For example, don't say, 'I don't do shimmers' or 'I'm allergic to pinks.' Open your heart and your mind to newness. After all, it's less risky than any fashion faux pas like, ahem, harem pants."

What are your thoughts on the gel manicure craze? Are you pro-gels or against?
"Against! Isn't it enough that we wear nail polishes all the time? I've seen way too many damaged nails from this process. Let your nails just be. Take good care of them naturally."

What are your feelings on nail art? Do you feel like all these extra add-ons are a gimmick? Or is this the way the nail industry is going?
"I can't speak for other companies, but for me, nail polishes should translate into dreamy and stunning colors. Period!"
Anything we can look forward to on the horizon from RBL?
"Many things! 2013 will be a thrilling year. We have The Fan Collection 2.0 and The Bloggers' collection 2.0 in the works, plus two collections I've created. I hope to launch my newest collection, Emoting Me, soon."


Photographed by Ryan Hines