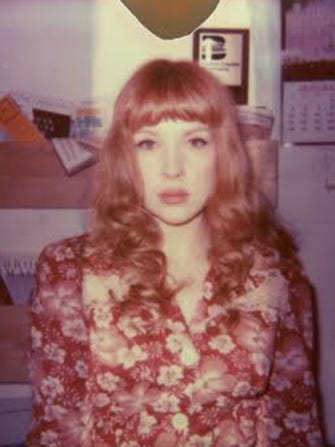 Photo: Courtesy of Daniel Stedman.
He may be a Boston native, but it's safe to say Daniel Stedman, founder & owner Northside — the parent company of Brooklyn Magazine, The L Magazine, BAMbill, the Northside Festival, SummerScreen in McCarren Park, and Taste Talks — has made his mark on Brooklyn.
Hannah Metz is a vintage curator, designer, photographer, and model, but more likely known as that girl catching your eye on Bedford Avenue in vintage threads. An expert in all things femme, I sat down with her in my Dumbo office to talk blood stains, band-aids, and the hard-core underground world of vintage fashion.
Daniel Stedman: So, I know you're a designer & model, but please tell me more about everything you do! Hannah Metz: "Well I have a store in Los Angeles that I started with my partner, who was originally my boss when I was in L.A. Then I moved here to New York, and we missed each other so desperately that we decided to start a company. That makes sense right? That's how you stay in touch with people you miss right, start a company with them? We originally just started buying vintage clothes and reselling them to larger companies like American Apparel and Urban Outfitters. We sort of amassed this enormous collection of vintage while we worked together at American Apparel over three years. They wanted something very specific, like '80s and '90s. We would come across '20s, '30s, '40s, '50s, '60s and we just couldn't say no to these beautiful things. We had what felt like a 1,000-piece collection. We ended up doing a pop-up shop with Urban Outfitters which was pretty successful and lasted a little bit over a month. Then we did another the following month, and two weeks later, we signed a lease for a place in Pasadena. Later that year we released our first lingerie line. It all just snowballed and happened really, really fast. Everything all happened at once. I also went through a personal growth montage. In that two week space I learned how to drive, got my own cellphone, my own computer. I felt like a very independent '80s lady."
Are you thinking about opening a store in Brooklyn?
"I would love to. We have to see because most of the clothes come from Los Angeles where my partner works. She works in a rag house. So basically how it works is, GoodWill, Salvation Army, all those charity shops, they get so overwhelmed by donations that they end up selling a chunk of their donated goods to these rag houses. Rag houses have people who are trained to know how to sort through it all. It's basically a conveyor belt that people stand around on multi level areas. They'll have somebody who picks out, for example all t-shirts, then all those t-shirts go through a shoot. From there, they'll have another round of people who sort through '80s, modern, paper labeled t-shirts and so on. Then they'll have these bails of particular styles and they will either send them overseas or sell them to vintage buyers. People come from all over the world just to go through 1,000-pound bails. You can be specific and say, we want a 1,000-pound bail of high waisted '80s trousers then they'll collect that for a month. It's amazing to see how they can amass it all so quickly. It's like magic."
Is there a rag house in Brooklyn?
"Yes. I've been to it though and I think dryer climates have better rag houses because they are easier to maintain. Basically anywhere where people go to retire has the best rag houses. It's like a secret world that regular consumers never see. The first time I walked in, it was just my idea of heaven. I've been buying vintage since I was 12 years old and there were just these mountains of high-waist Wranglers. It's disgusting though. You go through Band-Aids and blood stains. Going through men's trousers pants is hardcore. Now it takes a lot to gross me out."
So, what are a few of your favorite places in Brooklyn to shop for vintage?
"I do all my shopping in Los Angeles actually and it's all through my own store. My wardrobe is 90% The Loved One. The other 10% is Beacon's Closet. That's probably the best place I can recommend in Brooklyn. If you have a little extra to spare and you aren't into digging around, I would recommend Horizons. They've got a beautifully curated collection of clothes."
The Loved Ones has a vintage-inspired lingerie line. Who is your dream model, photographer and stylist for a lingerie look-book?
"That is a great question, but I don't know if I have an answer for it. I love doing all those things. I like to take the photos, style, set the tone, art direct. So I haven't ever really dreamed of anyone in particular. If I could travel back in time, I would say David Hamilton."
So you photograph and also style?
"Yeah, for pretty much everything and then sometimes I'm in front of the camera. It was always out of necessity, though. We moved so quickly that we didn't have resources to afford other peoples assistance. So, we said we would do it all on our own. The bonus was that people were like, "Hey that girl looks like me. If she can wear that, I can wear that." It ended up being a huge part of our business. I hate the term "real girl," but there is such a thing."
Do you take any inspiration from any other photographers?
"My main inspiration is cinematic. I'm really into screenshots. I love the '60s and '70s films. There are so many cool angles, great color schemes, and beautiful moments to capture."
Photo: Courtesy of Daniel Stedman.
Who are some of your fashion icons?
"I love Biba I love the '60s and '70s romantics. Shamefully, I don't know many contemporary lines. I'm only now immersing myself in it. There is so much out there though. Sometimes it's hard to know where to begin. Dolce & Gabbana has done extravagant lines in the last couples of years so that was my gateway for appreciation into contemporary fashion."
Where do you live in Brooklyn?
"I live in Williamsburg, in sort of an untouched pocket. The walk from the train has changed so much in the last four years, but I feel like our one block has stayed relatively the same, so that's really nice. I'm kind of looking to buy in Brooklyn Heights, which is very "adult" but weirdly a lot less expensive. You get more bang for your buck. I'm really excited to walk out of my door and see something aesthetically pleasing and not mountains of garbage and more garbage, which is now my view when I leave my house."
What are some of you favorite spots now?
"My favorite place is Bakeri. It's on the corner of North 8th and Wythe. It's just a tiny little bakery but their actually opening up their second bakery in Greenpoint. Everything there is so delicious though. It's so small and perfect. Whenever I have a meeting with someone, I always direct them there. I'm there every Saturday afternoon. If you go to brunch, you'll wait an hour or more, but Bakeri? No way. It's perfect. If it's winter though, my house is my favorite place. In the summer, I like to hang out by the waterfront, parks or the farmers market. All those outdoor activities. Food-wise, I'm so spoiled. So many good restaurants! My favorite cocktail is at Hotel Delmano. I'm crazy about scotch, so finding a good scotch cocktail is amazing."
What makes Brooklyn home to you?
"It's definitely the people. I've lived in a few places and I've always had a solid group of friends. It's the easiest place in the world to meet and connect with people. I don't why that is and if it just attracts a wonderful type of person. Maybe it's that everyone is so open to new friendships. The hardest thing here is making time to see everyone. I've met so many great people. For me, that's the best part and what keeps me here. Otherwise I would be somewhere warmer. It feels like you can do anything you want with your life here."