Designed by Mary Schafrath.
Craigslist
is the best. But, also the
worst
. You fall in love with a great chair, go all the way to a stranger's house in far-off neighborhood, and it's gone, or totally not as advertised. Well, never again.
Some people have an innate knack for the hunt. Nadja Spiegelman, the savvy web surfer behind
Curated Craigslist
gave us the scoop on pulling off a successful deal — minus the sketchiness. (Plus, we added a few tricks of our own.)
Read on and that vintage Schwinn, Eames rocker, and Victorian sofa are yours for the taking.
No seller wants to read a long, drawn-out novel about how smitten you are with their vintage, red-lacquered dresser. They're trying to sell it fast and to a non-creepy individual. The best response is always a quick one. Nadja uses this template: "Hi there, I like your [...] and I'd like to buy it from you. Please let me know a convenient time to come pick it up." Be sure to mention the specific item so the owner knows you're not a spammer. Once you've established contact, you can put all your additional questions (price bargaining, dimensions, etc.) in the next email. Also, always let the seller know if you can pay in cash. They'll be much more willing to see you.
Designed by Mary Schafrath.
On a serious hunt? The fastest way to search is by using the site's thumbnail gallery, where tiny pictures are paired with the text blurbs. "Maybe everyone has always known about this — but when I discovered it, it blew my mind," Nadja says. Sellers often don't tag listings correctly. If you're looking for a dining table, be sure to check under "antiques" and "furniture." Putting your item in quotes in the search bar can increase your luck, too.
Designed by Mary Schafrath.
Safety first is the motto of the mission. Nadja recommends always bringing a friend even if you're feeling good vibes. Going to a stranger's house after dark is a strict don't. And, two sets of eyes are better than one for taking a close look at what you're about to buy...
In regards to bed bugs, she says you can't live in fear. "When I go pick up furniture, I sometimes ask the seller face to face if they've ever had bed bugs — then you just have to trust your instincts." If the image on a post isn't the best quality, ask for pics taken from multiple angles before wasting anyone's time seeing the piece in person.
Most items are posted on the weekend since that's when people actually have time to deal with their clutter. Have the mouse at your fingertips come Friday evening. And, when a seller lists a phone number, always call before emailing. If you don't have a car, searching for listings in your immediate neighborhood is a good idea. "A man-with-a-van service can be expensive, and carrying items on the subway a huge pain," she says.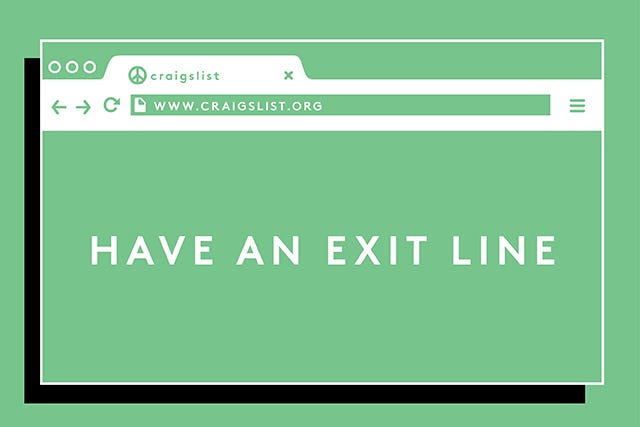 Designed by Mary Schafrath.
Always remember that you don't have to buy anything. Sometimes you'll arrive at the seller's home and the item won't look anything like the photos. "When you're in someone's home and judging their belongings, things can get personal quite quickly," she says. The key is to keep the rejection simple. I usually say: "It's lovely, but the color is different than in the photos and won't match the rest of my furniture." It's as easy as that.