It should go without saying that nearly every image you look at today has most likely — okay,
definitely
— been Photoshopped. But, should fashion advertisements come with a label confirming they've been processed just like food ads? (
Business of Fashion
)
Four-time NBA MVP LeBron James has decided to act on his early opt-out and become a free agent. The Miami Heat hasn't necessarily lost James, but he's able to play the field as of July 1. (
ESPN
)
Amazon's attempt to get a drone delivery service off the ground is no more. The Federal Aviation Administration is sticking to its "hobbyists only" policy. (
Fast.Co
)
Potential jurists now have to live with the high possibility that lawyers are reviewing their social-media profiles. (
NowThis News
)
The former head of News International Rebekah Brooks, her husband, and personal assistant have been acquitted of all charges against them for the 2011
News of the World
phone-hacking scandal. The decision has left many scratching their noggins as to how. (
Jezebel
)
The American people are finally beginning to see the improving state of the economy five years after it started to truly rebound. This positive attitude will hopefully help the nation continue to prosper. (
Quartz
)
For the first time in medical history, doctors have documented the movement of a paralyzed hand through thought. With the help of a brain chip, Ian Burkhart trained his brain to open and close his fingers, even pick up a spoon. (
The Washington Post
)
Finally, despite the rumors, Hulu will not be saving
Community
, the show that was cancelled too soon. #SoMuchForSixSeasonsAndAMovie (
Complex
)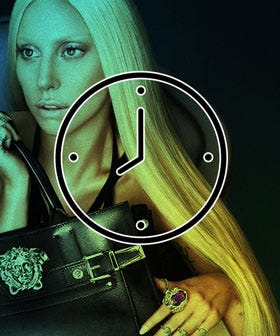 Photo: Courtesy of Versace.