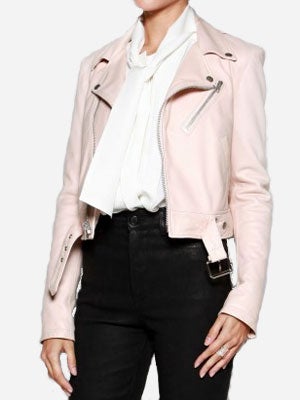 Ideally, you're already making big-time V-Day plans with your boo. But even more importantly, what are you going to wear? Wondering which understated, elegant (but still
seksi
) dress will be right for the occasion? How about chucking all that fine, fine skirting back into the closet and going cute casual with a pair of boyfriend jeans, your favorite rock tee, beat-up kicks, and this completely insane, perfectly
pink
BLK DNM motorcycle jacket
? This well-cut version of the classic perfecto jacket takes the iconic item's dark, rugged history and turns it on its head. Just one caveat. Seeing as it's made by Johan Lindeberg's crew of rock-design experts, this lil' baby comes in at $2,490! Sure, that's a pretty penny, but it's
an exclusive from The Webster
and, truly, no piece of V-Day apparel could
ever
compare. It might be a great splurge to put on your (or the SO's) credit card...in this case, you'll get what you pay for.
Your new jacket goes well with just about everything. You could even pair it with that lovely dress you had picked out, but we guarantee the boy will love this even better when paired with one of his shirts.
BLK DNM Exclusive Leather Jacket, $2,490, available at The Webster, 1220 Collins Avenue (between 12th and 13th streets); 305-673-5548.
Photo: Courtesy The Webster.