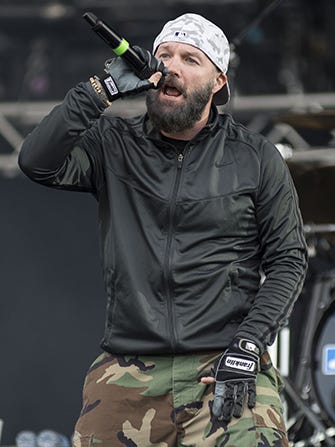 Photo: REX USA/Vaughan Pickhaver/Rex.
Does that headline scare you? It terrifies us. What one R29 editor calls "the worst part of the '90s" — nu metal and its flagship band, Limp Bizkit — is back to wreak a new sort of havoc. One part of the Bizkit, at least.
Frontman Fred Durst has made himself over many times since telling everyone to "shut the fuck up" on the hit track "N 2 Gether Now." (Sidenote: Can we also blame Fred Durst for the scourge that is text and IM spelling? Please let's.)
After Limp Bizkit granted our ears a reprieve by going on hiatus in 2004, Durst ventured into film — mostly indies, both in front of and behind the camera. The backwards-hat enthusiast made his directorial debut in 2006 with The Education of Charlie Banks and followed it up with The Longshots in 2008.
While the band reunited in 2009, Durst decided to soldier on as a multi-hyphenate musician and auteur. He's gone a little more corporate with his most recent project, though.
Perhaps realizing there's not as much money to be made in independent film as there is in stadium rock, Durst has teamed up with eHarmony to direct a series of ads peddling the company's signature soulmates-through-science marketing.
As
Complex
rightly
points out
, Fred's ad isn't that much different than the usual eHarmony commercial setup: "That old guy, Natalie Cole's 'This Will Be (An Everlasting Love),' and white people."
Honestly, we expected so much more from a man who once shout-rapped in a number-one single that he "did it all for the nookie."