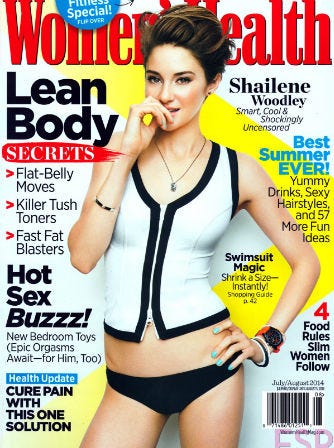 Photo: Courtesy of Women's Health.
Hollywood has yet to make a Stevie Nicks biopic, but when it does, we know who should play her. In a new interview with Women's Health, the ever ubiquitous Shailene Woodley said that would be her dream gig.
"I would love to play Stevie Nicks," the actress admitted. "She's just such a fascinating woman who's lived such a life — and is still living such a life. Her music was really profound for me in my life." Obviously anyone attempting to portray the legendary Fleetwood Mac singer would need the necessary vocal chops to do it. Though we have yet to hear Woodley carry a tune, the 22-year-old seems up to the challenge. "I think it'd be great to sing in a film," she added. "I love to sing."
One actress we know can sing is Reese Witherspoon, which might explain why Nicks once admitted that the the
Walk The Line
star would be her first choice to play her in a movie about her life. However, the singer has since cooled on the idea. "I've already told [Reese] she's almost too old," Nicks
told Entertainment Tonight Canada
last year.
That leaves the door wide open for Woodley, whose striking individuality falls in line with Nicks' outsider ethos. "She is so fully herself, and undividedly herself," Woodley said about the singer. "That in itself is such a powerful lesson to take in and be like, 'wow.' No one is going to be the next Stevie Nicks, and Stevie Nicks was [not] the next anyone. And, I think that's such beautiful advice for all of us. You do you, we do we. She does she in such a beautiful way."
C'mon, Hollywood, make this happen. Woodley won't have this "Edge of Seventeen" look forever. (
Oh No They Didn't!
)