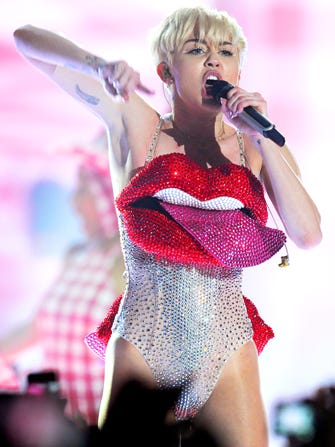 Photo: Brian Rasic/REX USA.
Last year,
a source told Hollywood Life
that Miley Cyrus' emotional track, "Last Goodbye," was about the singer's late dog, Lila. If that's the case, those two had a pretty bizarre owner-pet relationship.
Now that the song has been leaked in full, it seems unlikely that the lyrics are referring to anything but the turmoil of a bad breakup. Take, for example, this verse: "We never said that we would be perfect / We only said that we tried / And when you said that we were forever / I guess that's just another lie / Let me slip right through your fingers / I hope you know it's real this time, yeah / To know that I said I'd never come home for a last goodbye."
It just so happens that Cyrus and former fiancé, Liam Hemsworth, were having a rocky patch around the same time a snippet of the song was first released last June. The couple didn't split for good until the fall, suggesting that it may not have been a "last goodbye" after all. And, is it just a coincidence that the former lovebirds met while filming a movie called The Last Song?
If the tune (which you can listen to below) is about Hemsworth, so be it. Cyrus certainly wouldn't be the first pop star to turn her love life into a chart-topper.

Want even more R29? Get the latest news, tips, and can't-resist stories delivered straight to your newsfeed, in real time.