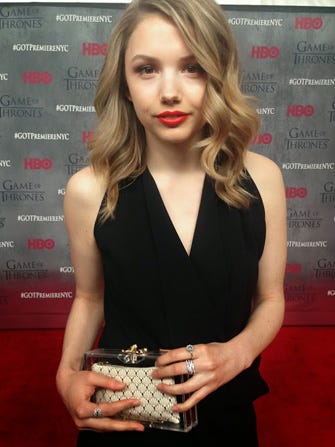 Well, friends, we hit the Game of Thrones red carpet last night, so we can pretty much call it quits from here. We hung out with the Khaleesi, rubbed elbows with George R.R. Martin, and have thus basically achieved our life dream.
However, before we retire, a note: Have you seen Hannah Murray? She's the actress who plays Gilly, Sam's pal/vague love interest. On the show, the young mother and free-folk-turned-crow-friend recently escaped a life of sexual abuse at the hand of her own father. So, understandably, achieving Cersei levels of glam takes second fiddle to survival. But, we are pleased to announce that in real life, Ms. Murray is very, very chic.
She showed up with soft curls, a perfect red lip, a thoroughly on-trend box clutch, and a stunning black jumpsuit on the red carpet at Lincoln Center last night. Of course, we knew she was no wildling in person, but it's always a bit of a shock to see the GoT ladies without their various wigs and corsets. Daenerys as a brunette never fails to blow our minds, and don't even get us started on Gwendoline Christie, who plays Brienne of Tarth and is a bona fide beacon of angelic beauty in person.
Anyway, good for you, Gilly Hannah. You've given us some major inspiration for our next fancy-pants event!