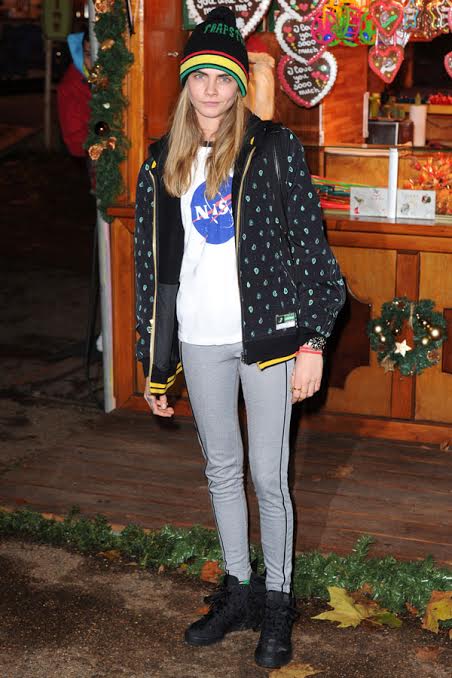 Photo: David Fisher/REX USA.
Supermodels are a reliable source of so many life-giving things: healthy(ish)
dessert recipes
,
workout tips
to give us killer guns and more abs than Van Damme, and an education on how to pronounce names like "Snejana" and "Roslyakova." However, they're also partly responsible for inspiring some not-so-nice sentiments: Namely, they and their stunning outfit choices make us feel like shlubs in comparison.
That's why we're pretty excited about this pic of Cara Delevingne from last night's opening of Winter Wonderland in Hyde Park, London. Okay, we know what you're thinking: Basic much? A beanie, sweats, and a NASA tee — add a bottle of Tide and a little wire cart, and this is straight-up laundry day. And, granted, it's not your average photo-op look. Still, we love that Cara D. is dressing for an event that's basically an outdoor carnival in clothes you can actually, you know, have fun in. (And, the supermodel did indeed have buckets of fun, if the pics of her and Georgia May Jagger screaming on a roller coaster are any indication.)
Delevingne may get criticism for this atypical event look, but we're definitely down with it. It's unpretentious, event-appropriate, and makes us feel way better that we chose an elastic waistband today (hey, it's Bagel Friday, okay?). If Cara wants to leave the insufferably unattainable hotness to the
VS Angels
, who are we to judge? Besides, we all know this lady can turn on the
megawatt sexpot thing
any time.