"You're looking skinny like a model with your eyes all painted black" is a lyric that may or may not be burned into our hearts. But, it isn't really what we'd call beauty inspiration. Or... is it? Actually, for one genius XOVain blogger, that's exactly what it is.
Taking songs written by men that talk about women's beauty looks, like the aforementioned Bright Eyes song, she went ahead and did her makeup as described by the lyrics. It's hilarious — we've always just kind of brushed aside the words that men use to describe makeup, because unless you're wearing it or you're a trained professional, you probably don't know what you're talking about. Just a guess.
But, it's also a pretty strong commentary about the definite patterns that repeat within song lyrics. As the blogger observes, "The sadder the girl is, the darker her eye makeup. And for some reason, most men don't seem to know eyeshadow exists in shades of non-blue." She adds, "Makeup is either tactlessly caked on, or nowhere to be found, and it's always a way to judge a woman's character or mood."
Do yourself a favor and go to XOVain to read this post because it's amazing, and there are two other songs involved. We're not going to give anything away, but our new favorite shade of blue lipstick is involved. Just saying. (
XOVain
)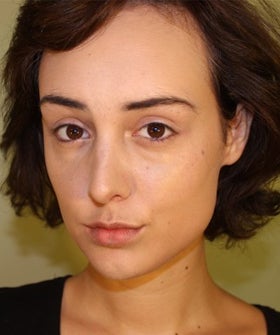 Photo: Via XOVain.
Like this post? There's more. Get tons of beauty tips, tutorials, and news on the Refinery29 Beauty Facebook page!