Supermodel Alek Wek is basically a living study on how to be an ideal human. Through this photographic tribute to her life's work published on Style.com, we've been reliving all the greatest Wek movements. As written in the piece, Wek was scouted in 1995 in England, where she had lived since fleeing Sudan at 14 with her family. Since then, she's been a pioneer in an industry that's not exactly known for promoting diversity — Wek was the first African to appear on the cover of Elle, among other huge accomplishments both as a supermodel and as a human rights activist. And, she's still going strong.
We're also stoked to hear that
she's going to be appearing in the 50th anniversary edition of the Pirelli Calendar, which will be out in November.
Do yourself a favor and head over to Style.com to revel in Wek's gorgeousness and read about her impressive accomplishments — she's had so many that chances are, at least one of these will surprise you. (
Style.com
)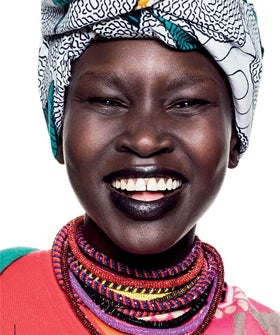 photo: via United Colors of Benetton.

Like this post? There's more. Get tons of beauty tips, tutorials, and news on the Refinery29 Beauty Facebook page. Like us on Facebook — we'll see you there!