Today is Lady Gaga's 27th birthday and I feel the need to make a confession: I've had it bottled up for some time now, but after years of following her faithfully, I've come to admit — I'm a gay man who doesn't care for her anymore.
Once upon a time, when I lived in Jamesville, New York, I heard "Just Dance" and began following Lady Gaga's music almost obsessively. I craved more work just so I could escape in it. Her shameless sense of fashion and whimsical look was a fantasy world that seemed so far removed from the Syracuse area — a true alternative. Thanks to her example, I found a platform in fashion with which I could experiment. I felt a sense of belonging for the first time in the Monster community, like someone out there gets me (even though I didn't really get me then). I bleached my hair, played with my clothes and slowly developed my own sense of style. Therefore, as someone who felt he had outgrown his small town, I decided to challenge my ideas and sense of self.

Above and right is Hayden at a Lady Gaga concert several years ago.
Photo: Noel Kessel/Newspix/Rex/Rex USA and courtesy of Hayden Manders.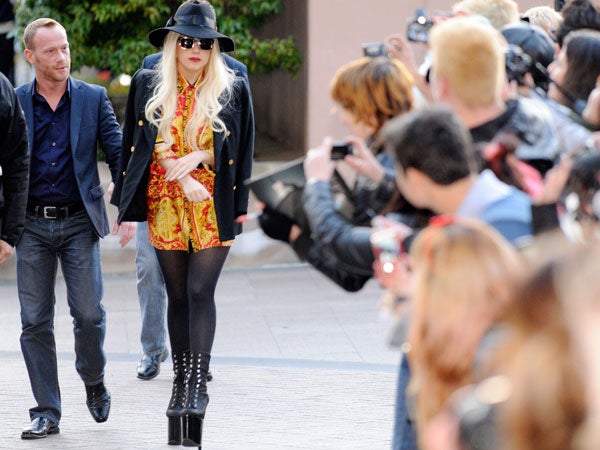 Now, my paws aren't up anymore. In fact, they've been down for almost two years. To be honest, I feel freer. Not because I am over the message, mind you: I genuinely appreciate the accepting community the Monsters have created. Their honesty and courage to be themselves in conservative areas across the States is both intimidating and inspiring. It was through imagery and reading various blog confessions that I fell into their world, and it was through the same means that I fell out of their world and decided to grow my own. But, landing in New York allowed me to actually enter into the fantasy that she had described.
Secondly, I felt the whole "Born This Way" message had become less pop and more political. I saw the caring Monster community bashing other pop-artist communities, claiming their Mother Monster equivalent was stealing Gaga's ideas. From my perspective, the Monster community was abusing its power to instigate change, adding a level of exclusivity to a community that, by definition, is supposed to welcome one and all.
I'm still a fangirl, I still belt out every lyric when it comes on, but as a homosexual living in a city like New York, I don't feel the need to hear that message every day. The closet, in my opinion, doesn't exist in New York the same way it exists elsewhere, and as such, "Monsterism" doesn't pack the same punch. In NYC, you can be whomever you want to be, and no one notices because everyone here is a "Little Monster." Had I still been in central New York when Gaga's "Born This Way" era began, I'd most likely have a different opinion. I can see myself actually saying a lyric from her song "Hair": "Why can't I be who I want to be?" But today, I feel like her message is meant for the adolescent struggling with their identity in Middle America. She's bringing the "New York City kind of acceptance" to the lives of the youth outside of the urban bubble.
Photo: Craig Borrow/Newspix/Rex/Rex USA.

And that's great. That's awesome, in fact. It's a message that needs to be heard, and an acceptance that should be universal. Had I still been the closeted boy when the "Born This Way" movement began, I would still be involved with the Monster community. But I've found and constructed a community here in New York City that's just as — or even more — accepting than the Monsters. My group of friends is primarily gay, and we all lean on each other just as I had once leaned on the Monsters I met through the Internet. My new community is tangible rather than virtual.
I've now found in real-live New York City the same freedom I once found in Lady Gaga's music. When I listened to her back home in upstate New York, I felt like I could be anyone — I felt famous. It transported me away from the claustrophobic suburb I grew up in. Now, I live in an apartment that probably should induce claustrophobia, but feel more liberated than ever. I remember when I saw The Monster Ball in New Jersey, an interviewer stopped me before entering the stadium and asked me what Lady Gaga meant to me and I responded, "freedom." Moving to New York City allowed me to live the way I wanted to live: Freely.
So, I decided to invest time in my own community of friends. And don't get me wrong, Lady Gaga is an incredible artist. She's one of the most influential people in the history of pop culture and deserves all the accolades and praise. She's now 27 years old and has done so very much. I fully respect her — and shamelessly enjoy her music. I'm excited for Gaga's new ARTPOP era; she's returning to music and that's how it should be, I think. The Monster revolution has done a ton in advancing the equal-rights movement, and that should be applauded. But I don't find the need to be a part of some super inclusive club (which is inclusive, but still a club) to find the confidence within myself in order to be unapologetically me. I feel like I've graduated from the school of "Little Monster" and into myself, and Lady Gaga — and New York City — just happened to be a wonderful background to do so. So, I'll "Just Dance," and it'll all be okay. I'd like to think so.
Photo: Courtesy of Hayden Manders.