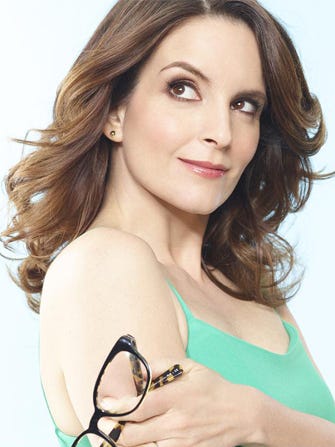 Photo: Courtesy of Garnier.
Tina Fey fans, this one is for you: Everyone's favorite funny gal is about to grace your TV screens a lot more. No, it isn't for a indefinite return to Saturday Night Live (sad), but as the face of Garnier's Ultra-Lift skin-care line. Fey will rep the anti-aging products in a series of print ads and TV spots starting this month.
Garnier's skin-care line already includes moisturizers, serums, and eye products, but Ultra-Lift is taking things a step further. We're talking the Cadillac of anti-aging concoctions, including a skin-corrector and a night cream with a pro-retinol formula that kicks into high-gear while you snooze.
We've got to say, when it comes to aging gracefully, Fey has us sold. She's one of those (seemingly scarce) women in Hollywood who actually takes the whole getting-older thing in stride. And, the Garnier family agrees. "Fey's personality, beauty, and approachability resonate with our consumer," David Greenberg, president of Maybelline New York, Garnier, and Essie, said. So pretty much, the people have spoken, and the people want more Tina. We can totally get on board with that.

Like this post? There's more. Get tons of beauty tips, tutorials, and news on the Refinery29 Beauty Facebook page!