Just when you'd returned from camping out for a new iPhone 5S comes the news that Apple will hold an event on October 22, when it will reportedly debut the next generation of iPads. According to
AllThingsD
, we could see slightly smaller iPads that take design cues from iPad Minis, meaning a thinner and lighter body and a slimmer bezel. The 9.7-inch screen, however, would remain the same size. It'll allegedly run Apple's new 64-bit A7 chip, just as the second-generation Mini could, though
CurrentEditorials
reports that it will be the A6 instead. The Mini, at the very least, is expected to get a Retina Display upgrade, according to AllThingsD. The new Mac Pro and OS X Mavericks might get some love at the event, too.
Shop R29's Prime Day Deals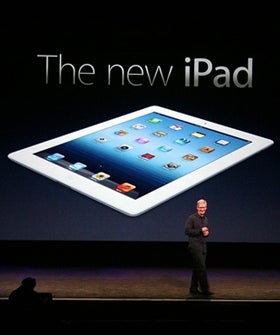 Photo: Via Cult of Mac.