Although it may seem like it's always sparkles and cupcakes with us here at Refinery29, we're actually a group of women and men who are very much like yourselves — though we love us some fashion, we know the things that matter most can't be purchased with an Amex.
From family members that we'll never be able to stray too far from to jobs that allow us to get paid to do what we love (and little extras like electricity and water that we'll never take for granted, ever again, post-Sandy), here are the 25 things our staff is giving thanks for this year.
Consider this our version of the pre-Thanksgiving feast roundtable; and practice your own answer in the comments — it'll be your turn to go soon!
"I'm constantly grateful for and surprised by all the fantastic friends I have, but there are three who will always be special. Jon, Chrissy, Debbie, and I went to boarding school together, and though college separated us, we all ended up in New York eventually, and we've remained each other's closest friends (See pic: Who else would go on a hayride with you at the age of 28?). At one point we all lived within three blocks of one another, making it almost as easy to wander over for a pajama-talk as it was back in school. Of course we've all found new friendships and relationships, but when the big stuff happens — hurricanes, health issues, family drama — these are the people I call first. When someone has known and loved you since you were a ridiculous, dramatic, showtunes-obsessed 15 year old, you keep them around — if only to keep them quiet."
—Kelsey Miller, contributing SEO editor
"I'm always grateful for my family, but this year, I'm especially thankful for my sister, who let our entire family (and some of my friends, too) crash at her place during Hurricane Sandy. She only lives one town over from me, but while my block was a mess of trees and downed power lines, her apartment was in pristine condition (read: electricity!)."
—Lauren Caruso, contributing editor
"This year, in addition to my family and friends, I'm thankful for two basics I've totally taken for granted in the past: water and electricity. Going without both during Sandy and seeing others who still don't have these essentials makes me realize how lucky I am."
—Diana Nguyen, top editor
"I wouldn't be the quirky, messy, driven person I would be without my mom and dad. In my family, 'parent' is a nebulous word (marriages, emotional adoptions, etc.), but Cathy and Michael are literally the most important things in my life — and so are the people who love them (my step-mom Sheila knows I am a brat, and somehow the amazing woman has resolved to love me nonetheless). People constantly comment on how cool my mother is and how close we are for a reason. And really, how do people live without my brilliant, loving dad snarking Jewishisms and yelling "CLAAAHRE!" (my middle name with a New York accent) every five minutes?"
—Leila Brillson, global news editor
"I'm thankful for so many things right now, but if I had to single one out, I would say it's my mother. Since my father passed away two years ago, she has very gradually reclaimed her life, in every way one could. And it's given me so much joy to see her happy and energized and looking forward. She inspires me."
—Christene Barberich, editor-in-chief
"I'm grateful to have such a tremendous support system in a city that could easily feel isolating and exhausting. These things always sound like such cliché, but it's true: Friends who feel like family when you don't have family around, who put up with your tantrums and breakdowns, talk you through your tendency to over analyze, and have impromptu afternoon bottles of wine with you are priceless. So, thanks guys!"
—Neha Gandhi, deputy editor
"I'm truly thankful for the health of my family, as well as their continual love and never-ending support. My parents are two of my very best friends (and hitting partners!) and I feel blessed, each and every day, by my mother's beautiful energy and dad's constant reminders to laugh — a lot!"
—Jessica Teves, managing editor
"After announcing my pregnancy, there's been such an outpouring of love from everyone in my life. It's reminded me of how thankful I am to have such incredible friends on both coasts, a super-supportive family and husband, enthusiastic colleagues, and a baby boy on the way."
—Katie Hintz-Zambrano, senior editor, West Coast

Photo: Courtesy of Kelsey Miller; Courtesy of Lauren Caruso; Courtesy of Diana Nguyen; Courtesy of Leila Brillson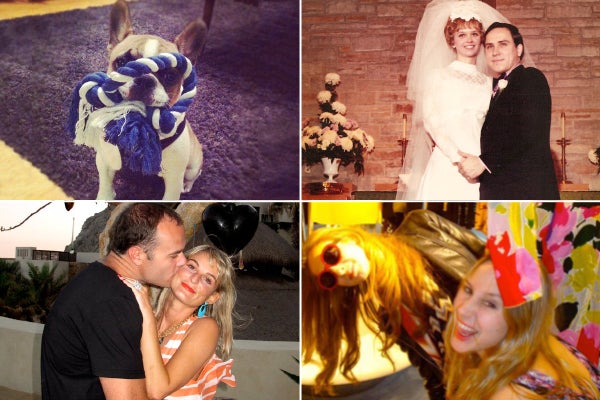 "Nothing cracks me up as much as my pup, Rye. If I am ever in need of an instant smile, I can count on him. I'm thankful for all the laughs he's given me over the past year."
—Angela Tafoya, San Francisco editor
"I'm thankful every day for my amazing parents. The older I get, the more I see myself in both of them. Strength, compassion, and a genuine appreciation for the little things in life...I'm one lucky gal."
—Rebecca Taras, Chicago editor
"I'm grateful to finally be sealing the deal with my prince charming, Carle, after 11 years of dating! He is the yin to my yang, the bim to my bop, and he still sweeps me off of my feet daily. I had love at first sight with him (he did not with me, ha!) when we met on spring break (yes, you read that correctly), and every night before I go to bed, I thank whomever's up above for sending him to me. September 2013, here we come!"
—Brenna Egan, Los Angeles editor
"I'm most thankful for my hilarious friends and beyond-supportive family. Especially this year, though, I'm thankful for my hilarious and beyond-supportive friend/family, Marguerite Imbert. We've been best friends since age five and though she's been globetrotting from Berlin to Vienna to San Fran to Rome (and now India!) I'm so grateful we've been able to keep in touch. She's the most inspired, spirited, creative, brilliant, insane person I know and our sporadic but familiar conversations mean the world to me."
—Annie Georgia Greenberg, New York editor
"Three weeks ago I may have had a different answer, but P.S. (Post-Sandy), my perspective has shifted. Which is why this year I am grateful for the dual gifts of resiliency and kinship. In the wake of the devastation following the Frankenstorm, New Yorkers did what we do best: We bounced back. We had no power, we had no cell service, we had no Internet, but that didn't stop us from carrying on with our day-to-day lives. Coffee was brewed (on camp stoves), commutes were made (by any means possible), and even socializing persevered (in the dark). But what really warmed my heart was seeing how people came together to aid their fellow New Yorkers. We're not exactly known for being the most helpful and involved of denizens, so seeing little things like power strips and coffee stations set up outside homes and businesses that still had power brought a tear to my eye and reminded me how thankful I am to call this city my home."
—Megan McIntyre, senior beauty editor
"Aside from my family, friends, a job, and my health, of course, I'm thankful that I live in the year 2012 — with iPhones, wifi, Facetime, Instagram, and electricity. After going without power during the recent hurricane, it's amazing to realize what you miss most. Turning on a light or just being able to talk to someone or message friends and family so far away in an instant is something I won't take for granted ever again."
—Lisa Dionisio, production editor
"This year, I'm thankful for the DIY spirit. I've tackled tons of projects, from small to enormous, over the past year, and each one has done many things for me — preserved my sanity, inspired my creativity, made my family and friends feel loved, and taught me some crucial life skills. Like 'measure twice, cut once' — sure, it mainly applies to wood and fabric, but it's also a reminder to make sure you're doing things the best way possible. And I'm all about metaphorical life lessons."
—Holly Thomas, Washington D.C. editor
"Honestly, for many years, the extended Bell family has been a divided brood for many reasons. I'm thankful we've forgotten what they were."
—Gabriel Bell, staff editor
"My Nonna is my favorite person. At 84 she's got more energy and spunk than someone one third her age (as she likes to prove when she shows me she can still touch her toes), and will not hesitate to bend over backward for any one of her four children or 12 grandchildren, whether it be putting on a pot of her famous pasta sauce or putting someone up in her home. She is the endlessly generous, always comforting, strong, beautiful matriarch of my whole family. And for that, I will always be thankful."
—Gina Marinelli, assistant editor
Photo: Courtesy of Angela Tafoya; Courtesy of Rebecca Taras; Courtesy of Brenna Egan; Courtesy of Annie Georgia Greenberg
"I am overflowing with thankful feelings this year. After graduating from college, starting a new, full-time job, and struggling with a terrible bout of Lyme disease in the past six months, I have never been more grateful for my friends, family, coworkers, and health than I am right now. While it's hard to single out one entity from all of those, I have to say that this year I am particularly thankful for my very best friend. Growing up together, I always knew she was a special one but, in the last year, I have seen her graduate from college and begin a two-year stint with Teach For America in rural Louisiana. Not only is she my personal pillar of strength but now she's passing on her smarts to 4th and 6th graders, too. She is my role model and I am so thankful that despite the many miles between us, she is still the person I call whether I'm bored walking home from work or having an urgent need for some sort of emotional outpouring."
—Willow Lindley, fashion and beauty assistant
"NYC wouldn't be the same without a strong support system. Every day I appreciate how lucky I am for having an amazing group of friends who feel like a second family. My mom and dad have always treated them the same way — like my surrogate brothers and sisters, since I'm an only child. I've had this close-knit group of friends for several years, and they make me feel like I'm at home even when New York gets crazy or work is daunting or I just feel overwhelmed. I know I'll be hanging out with these wonderful people even when I can't fit into my favorite pair of slim-fit jeans."
—Kristian Laliberte, senior editor
"I'm grateful for passel of people I love (and who love me!), a corner of the world I can call my own, my health, and the privilege to be able to do exactly what makes me happy, every day. I never expected that I'd be able to take a hobby (writing about fashion online) and turn it into a full-time job. Being able to do it with an inspiring cast of characters, for such amazing readers, and in a city I love is just the icing on the cake. Also, Momofuku blueberry-and-cream cookies. Christina Tosi is a goddess."
—Connie Wang, global editor
"Of course, I'm very thankful for my loving family, great friends, amazing job, and cozy apartment...but when the holiday season rolls around, I'm going to be honest here, it's all about food. When I go to visit my parents in Florida for Christmas, we're going straight from the airport to the local crab shack, and I've never been so excited in my life. Oh, and I can't wait to see my cat again!"
—Lexi Nisita, associate community editor
"This year, I'm thankful for so many things — my job, my friends, the fact that I made it out of Sandy completely unscathed (unlike many New Yorkers). But, I'm mostly thankful for my parents (all three of them!) — without their help I wouldn't be celebrating Turkey Day in beautiful Barcelona. On that note, I'm also thankful for tapas!"
—Seija Rankin, East Coast editorial assistant
"I'm thankful for yogurt-covered pretzels, Law & Order SVU, my boyfriend's amazing cooking, and my Calvin Klein boots that have been re-soled three times. But most importantly, I'm very thankful for the supportive people in my life who make every day an amazing journey. Without them, I don't think I'd be smiling nearly as much."
—Sarah St. Lifer, West Coast editorial assistant
"Every year, I'm thankful for my family and friends, but I have to say that this year I am supremely thankful for my job at Refinery29! Post-grad life in NYC has been rough, and as an intern I was hoping and praying to get the chance to join this team, full-time. I finally got my chance right at the beginning of October, and since then I have been grateful, every minute, to be able to do what I love with this group of talented, wonderful people."
—Tara Rasmus, beauty contributor
"I am thankful I get to watch my little sister grow into an independent woman and see her excitement as she gets her first round of college acceptance letters. (I am also thankful I don't have to make that decision all over again.)"
—Rebecca Smith, SEO editor
Photo: Courtesy of Willow Lindley; Courtesy of Kristian Laliberte; Courtesy of Connie Wang; Courtesy of Lexi Nisita