Photographed by Erin Yamagata.
Michael Dueñas, founder & CEO of Hair Room Service, boasts a long list of celebrity clientele that includes Lady Gaga, Connie Britton, and Shailene Woodley. Now, the top NYC tress expert (+ R29 fave!) is serving up his haircare know-how on the regular. Trust: Dueñas is about to bring some serious strand inspo your way.
Already starting to stress about summer hair? Along with the humidity comes sweat, frizzy (or worse, flat) hair, and just plain frustration. Luckily, there are simple tips that can help you avoid the hair frustrations of summer. Trust: It's not as complicated as you'd think.
While women with thicker hair seem like they're forever battling frizz, those with thin hair know that humidity can bring your mane down — and fast. The first product you should reach for before you head out the door is dry shampoo, like this one from
OSiS
. Spray your scalp area generously right after your blow dry; this will combat the sweat the moment it starts. Another benefit of dry shampoo is volume, which can be hard to come by when it's humid out. When your strands are still wet, spray some into wet hair and use a round brush or diffuser to blow dry your hair. The excess powder will help build volume
sans
frizz
A healthy hair shaft and a sealed cuticle will go a long, long way on a hot and sweltering summer day, and using a magnesium barrel brush, like this one from
RainCry
, can change your life (or, you know, at least your strands). The magnesium will heat up to the temperature of your blow dryer in about five seconds, and it will stay hot for three minutes. You'll get a continuous, even heat that will close and smooth stubborn cuticles without burning them. When your cuticle is closed flat, humidity has a harder time changing the beautiful blowout you just achieved.
Once you've flat-ironed your hair, used a dry shampoo, a magnesium brush, a heat protectant, and a ceramic iron, you might ask what's left to do. Only one thing: seal the hair from any drop of moisture that could come and wreak havoc. I recommend this
hairspray
, which gives you three different holding strengths. Just turn the dial and adjust your protection for the humidity you're about to battle.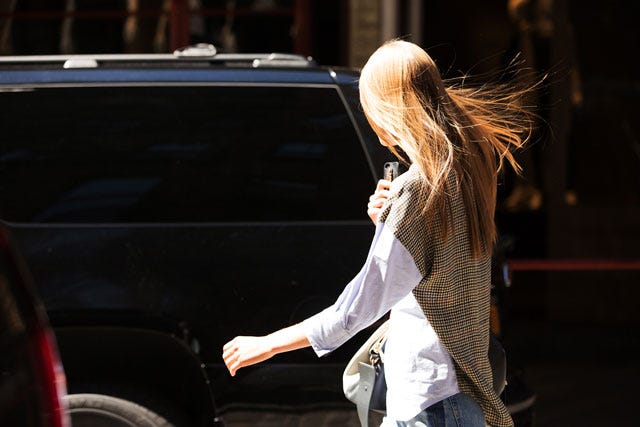 Photographed by Mark Iantosca.
And, while summer sweat can make you feel like you need to wash your strands every day, if you're not using a gentle shampoo, you could be doing more damage than good. Go for a gentle approach, or even reach outside your box and try a no-poo, like this one from
DevaChan
. It may not lather — which can be hard to get used to — but it
will
moisturize and clean. Can't shake the idea of your shampoo not sudsing up? Make sure you stick with a gentle shampoo. One of the best on the market is
BC Fiber Force
, which has moisture and essential amino acids built right in.
We all know frizz is a constant battle in summer, but do you know what causes your hair to get big? Lack of moisture. It's expanding to take up more surface area to collect as much moisture as it needs. A great option to battle frizz is
Rene Furterer's Carthame Gentle Hydro-Nutritive Mask
thanks to its luxurious-as-can-be scent, creamy texture, and essential nutrients.
When it comes for hairstyles for summer hair, I've done enough warm-weather styles on my clients to know that sometimes, wearing your hair down is not an option. And, while there's nothing wrong with a simple pony to keep your hair off your neck, just think about where the moisture's going. Your hair is slicked tight to your head while you're sweating and secreting excessive oil from the heat. It can't evaporate, so it's locked in and absorbing into your hair. You are just exasperating a problem instead of fixing it, and would likely have to wash your hair everyday if a tight pony is your go-to choice. Mix it up and try something with volume: Instead of succumbing to a flat, lifeless mane, try sprinkling a texturizing powder on your strands.
This one from OSiS
absorbs oil and adds a back-combing effect without the damage of teasing. It does come at a slight cost though: Where the product is applied, your hair will feel a bit gritty, but it'll keep your strands in place for hours.
Not into volume on a hot day? That's when braids become your best friend. A loose, playful style can help protect the hair from the elements and keep frizz at bay. Hairspray the sections you're going to braid before you begin to seal the moisture out, then braid your hair in the desired style. If you really want your hair off your neck, twist the braid into a low chignon just a few inches below your crown. Secure it with pins and shake out the front for an undone, tousled look.
Summer doesn't have to be as scary for your hair. Just have to take the appropriate steps to stand up to it!