Obsessed with Pinterest? Yep,
us, too
! And though you're busy scouring your favorite boards for styling tips, decor inspiration, and recipes, you might forget about that other, more necessary DIY that rolls around every holiday season: gift wrapping. That's why we teamed up with graphic designer,
blogger
, and wrap-a-holic Joy Cho for a quick hit of creativity! Regardless of what's inside the box, these wrapping ideas will yield nothing but smiles on the receiving end.
Check 'em out after the jump — and don't forget to add these to your overflowing
Pinterest board
of holiday eye candy. Everything you need to try these sweet ideas for yourself can be found at
Target
— from LED lights to wrapping paper in every pattern and color under the sun. Want more? Check out Joy's
collaboration with Target
for even more inspiration!
Every year, we buy rolls and rolls of wrapping paper to dazzle our loved ones with a pretty package to make them smile. Chances are you end up with an extra foot here, a few inches there, of extra wrapping paper that can't be used for anything short of preparing a thoughtful gift for an ant. But, since we know you're ecologically minded and not prone to wasting, here's a way to put those scraps to good use!
You'll need:
Gift box
Scissors
Tape
Leftover wrapping paper
Cut the leftover paper into one-inch strips. The strips should be long enough to wrap around the length or width of your gift box, plus one additional inch so you can overlap the ends on the back when wrapping. This woven effect looks best if you use at least two different types of paper for contrast, but feel free to use more to really mix it up!
Wrap your gift in a plain paper. Start by wrapping a stripe vertically around the box. When the strip ends overlap on the back, tape the ends together, without fastening them to the box itself. You can use double-sided tape to secure the ends so that the tape doesn't show.
Keep adding strips vertically side by side until you've filled most of the width of the box, leaving a little space in between each for the next step.
Now, wrap the strips around the box horizontally. Weave each strip in and out of the vertical strips, alternating over and under. Repeat for each horizontal strip, alternating verticals that you go over or under to create a woven effect.
Keep adding strips and weaving until you've reach your desired width.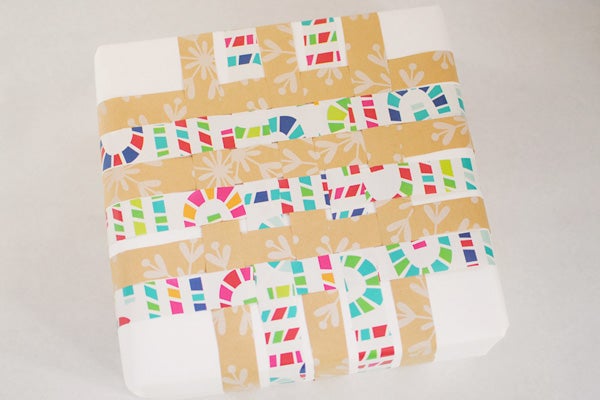 You're done! Finally, if you'd like, you can add a bow or additional topper — though it's hardly necessary!
Use everyday items to top off a gift. The best part? A lot of these things can be used again — either to wrap another package or serve as a fun gift on their own, in addition to what's inside!
Wrap a gift with your paper of choice, then secure it with a colorful, stretchy headband. Tie on a pretty ornament, a doily, or cut an oversized shape out of construction paper to top it off!
Select some fun, modern paper. Tie with a simple bow, then top with chip clips! Not only do these add dimension, but these little guys will come in use long after the holidays have passed.
For the next-level giver: Use mini LED lights to wrap a little gift! Simply add batteries to the light pack, then use it as ribbon, keeping the battery pack on the bottom. Turn on when ready to give — guaranteed to be the most eye-catching gift in the room!