We're convinced there's little worse than looking like a human marshmallow on your morning commute. In fact, even though we're not entirely sure what constitutes hitting sartorial rock bottom, that sounds pretty close to it. Still, when bone-chilling temperatures strike, sometimes fashion must play second fiddle to practicality. (This editor and a certain white puffer know all too well the measures that must be taken to prevent freezing one's butt off!) We need outerwear that'll get us from point A to point B sans frostbite, runny noses, and every unpleasant thing in between — so, that pretty, little peacoat isn't going cut it. Which is why we've given the almighty, totally toasty puffer jacket a major refresh.
Sure, they're not what most fashion folk deem stylish for a number of reasons — namely, their typically unflattering fits and cuts. But, we think our quilted toppers have real potential when executed properly. So, we're sharing five surprisingly rad outfits that'll take you from Friday to Sunday, including after-work happy hours, impromptu movie dates, boozy brunches, and much more. You won't miss your wool-blend numbers one bit. Promise.
Pastel Play
Winter whites and soft pastels are a match made in sartorial heaven. But, are you looking for a way to rock feminine hues without losing your edge? Choose accessories like a spiky, perforated ankle boot and a mesh, leather bag for a look that'll add a few sexy touches to your turtleneck-and-skinny-jean combo. As for your topper, select a longer style with a cinched waist so your silhouette is still pronounced despite being covered by all those layers.
Coach
Long Legacy Puffer Jacket, $598, available at
Coach
;
J.Crew
Wool-Cashmere Turtleneck Sweater, $228, available at
J.Crew
;
American Eagle
High Rise Skinny Jeans, $29.99, available at
American Eagle
;
Mango
Tassel Pendant Necklace, $34.99, available at
Mango
;
Kara
Double Mesh Double Date Bag, $370, available at
SSENSE
;
Reed Krakoff
Perforated Leather Ankle Boots, $895, available at
Net-A-Porter
.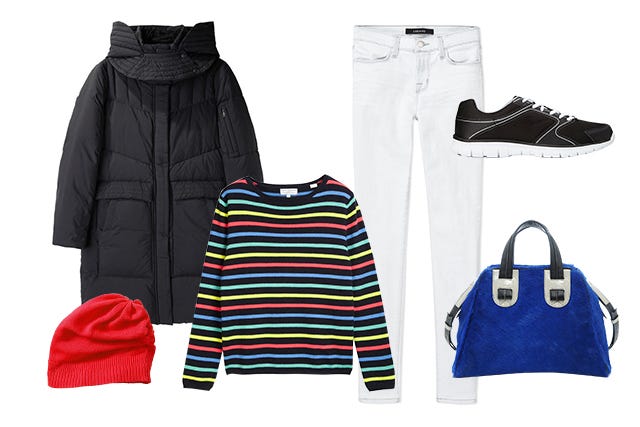 Taste The Rainbow
Bold, primary-colored accessories paired with crisp, white jeans will instantly punch up your blah black puffer. This decidedly sporty outfit is perfect for running errands, going on leisurely friend dates at the corner coffee shop, or even as a casual-Friday getup if your company practices a relaxed dress code. An athletic pair of sneakers and a playful sweater like this one from Chinti and Parker add a youthful note to the finished look.
HELMUT Helmut Lang Hooded Puffer Jacket, $655, available at La Garçonne;
Chinti and Parker Striped Sweater, $440, available at Chinti and Parker;
J Brand 620-Frostbite Jeans, $99, available at Aritzia;
Banana Republic Slouchy Beanie, $25.99, available at Banana Republic;
Meredith Wendell Satchel Pony, $395, available at Meredith Wendell;
Forever 21 Perforated Trainers, $29.80, available at Forever 21.
Dress 'Em Up
It may surprise you, but puffers can, in fact, be just as eye-catching as our cherished wool blends. After a few simple style upgrades, this ultra-thin parka from Uniqlo (which comes in 12 different colors!) is re-invented to meet all of our going-out needs. Dress it up with a monochrome, body-skimming midi-dress — just steer clear of complicated prints and fabrics that'll overpower the punchiness of the coat. As for your bottom half, let your legs breathe a little. Pair ruffled socks with a strappy sandal as a cheeky alternative to tights that'll keep your toes warm, too. Barhopping during the winter months can be tricky, but you're out to have a good time (and a maybe a few tequila shots) — and now you look the part, too.
Uniqlo Ultra Light Down Parka, $69.90, available at Uniqlo; Topshop Black Long Sleeved Midi Dress, $64, available at Topshop;
Carvela Carly Barely There Heeled Sandal, $90.75, available at ASOS; With Love From CA All Ruffle Ankle Socks, $6.95, available at PacSun; Cole Haan Village Double Zip Crossbody Bag, $198, available at Neiman Marcus; Shourouk Blondie Antique Plated Earrings in Brandeis, $861, available at Forward By Elyse Walker.
Details Matter
Remember the human-marshmallow reference I made earlier? Well, that need not apply here. After all, this anorak isn't quite what it seems. Sure, it's got the standard puffy front, but it's paired with faux-leather sleeves and a wool, ribbed back. The colorblocked, contrasting textures are super easy on the eyes, making for a sleek, streamlined silhouette. Slip into a tailored trouser, silk blouse, and printed oxfords for a head-to-toe outfit that's perfect for the office and after-hours drinks with your coworkers. And, try adding a bit of quirk and some subtle embellishment to your neckline by fastening a brooch to your collar. Voilà!
Zara Long Combination Anorak, $79.99, available at Zara; Equipment Brett Blouse, $198, available at Equipment; Topshop Sharkskin Cigarette Trousers, $80, available at Topshop; Trussardi Laced Shoes, $385, available at The Corner;
Givenchy Crystal Cluster Brooch, $68, available at Nordstrom;
Urban Outfitters Catmaster Sunglasses, $14, available at Urban Outfitters.
The Bruncher
If you're like us, your inner lazy girl reigns supreme most Sundays — meaning that catching a movie or scheduling brunch are basically the only recreational activities we'll (happily) leave our apartments for. Comfort is key, so a cords-and-graphic-knit pairing couldn't be more appropriate. Topped off with J.Crew's '70s-ski-jacket-inspired puffer, we'd wear this laid-back outfit every day if that were socially acceptable. No judgments.
J.Crew Alpine Puffer in Colorblock, $239.99, available at J.Crew Factory; House of Holland Starburst Lurex Sweater, $416.68, available at ASOS; Patagonia Women's Fitted Corduroy Pants, $89, available at Patagonia; Bop Basics Cashmere Pop Top Mittens, $65, available at Shopbop;
Nixon The Re-Run, $125, available at Nixon; Need Supply Sydney in Camel, $58, available at Need Supply.