Chanel made waves a few months back when word spread that controversial young model Ondria Hardin would star in an upcoming campaign — and now it's here,
in the flesh
on the Internet. Worth the hype, or totally age-appropriate? (
The Fashion Spot
)
Vogue
Italia booked model Fei Fei Sun for its first-ever cover issue featuring a lone Asian model. It's pretty niche as far as breakthroughs go, but it counts — mainly because she looks
stunning
. (
Vogue
)
CFDA head honcho Steven Kolb elaborates on the non-profit's interesting business model: "Pay us money to do stuff with us and if we ask you to do something, do it for free." Well, whatever works! (
The Cut
)
Despite a restructuring program intended to underscore the brand's Parisian identity, Cacharel will no longer present a collection at February's Paris Fashion Week. The show is always a highlight, not to mention a personal favorite around here, so we're crossing our fingers this isn't a sign of things to come. (
Fashionista
)
Lena Dunham has been accused of forgetting her pants in the past, but this time it was definitely on purpose — and it's definitely cute. (
Coco Perez
)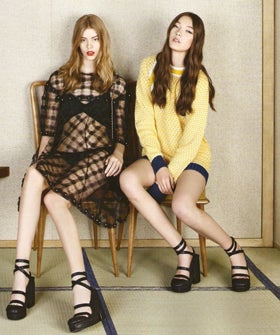 Image via The Fashion Spot.