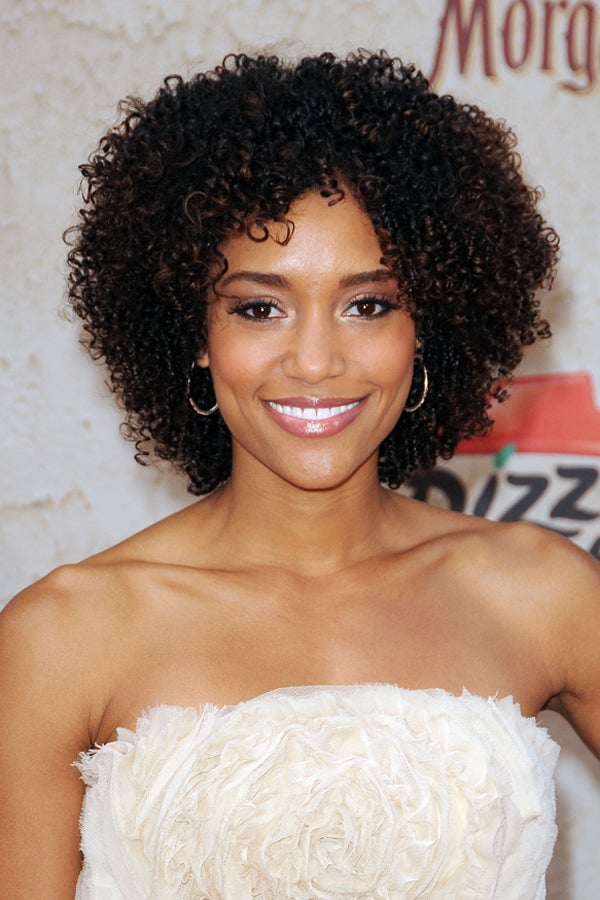 Annie Illonzeh broke new ground by being the first African-American woman cast as one of Charlie's Angels. What made this victory all the more remarkable is that this iconic role, the province of Hollywood's most beautiful female talent, was given to a woman who proudly sported a kinky-curly Afro. It may seem like we've made real strides in embracing ethnic beauty, but one might ask where Annie's counterparts are. Actresses like Zoe Saldana and Megan Good are considered beautiful, but they have a more mainstream look, sporting long, flowing hair. If they aren't born with the look, they pay for it, a phenomenon Good spoke candidly about in Chris Rock's Good Hair.
Hell, even kinky-haired women typically don't like kinky hair. Most African-American women have been taught to hide their natural texture from a very young age. Many of them would be mortified by the idea of washing their natural hair and wearing it to work as is. The hair industry is banking on it. Low-income, inner-city neighborhoods with large African-American populations have hair supply stores in the same abundance that suburban areas have Starbucks. Weaves and relaxer kits are their bread and butter. Given a choice between poorly maintained, lackluster, relaxed hair and healthy, vibrant, low-maintenance natural hair, many women will choose the relaxed hair.
Many women of color are starting to buck the system, not because of any political agenda; but just because they're tired of having their lifestyle and budget revolve around maintaining straighter hair. But, even today, it's a choice that can seriously affect a woman's career or dating life.
Most corporate offices and businesses frown on tattoos and piercing. And rather unfairly, natural, kinky hairstyles are often lumped into this category. How are kinky twists or braids an anti-establishment statement? Maybe a woman would like to go swimming/work out/have a sex life without worrying about ruining a $500 weave or sweating out her perm. Maybe she doesn't see anything fundamentally subversive about the manner in which her hair grows out of her head. Or — wait for it… she might think it's cute. But that doesn't seem to be the general understanding among employers.
Further compounding the issue? The fact that the casting machine in Hollywood is more than willing to continue to promote the appeal and desirability of smooth hair. We celebrate diverse casting like that of Grey's Anatomy, which includes African-American and Asian doctors working together. We love Chandra Wilson on the show, but could she effectively play the part with her hair styled in dreadlocks? Would America buy into it? Will production studios and TV networks ever take that chance?
In the status quo, even actresses who do manage to embrace their natural texture end up bowing to the need for a straight-hair look to book work. For example, Serena* is a successful actress who earns six figures working in commercials and TV/film. And she considers her wig collection as essential as her headshots.
"I plan on investing in a custom [lace-front] wig in a few months. I know that when I'm walking into the CW, they aren't going to want to see a giant, curly fro. I've had frank discussions with my manager and he is very honest about the fact that a lot of producers and executives want black women for certain roles, but they want them to still be appealing to the majority of viewers. Most of the time, that means them having a strong preference for straight hair."
Sigh. So, as Raven Symone puts it, the relaxed hair makes everyone more relaxed.
*Name changed to protect anonymity.


Photo: RD/Kirkland/Retna Digital/Corbis