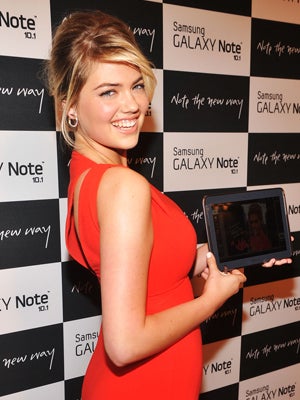 More often than not she's in a bikini on a beach somewhere,, but Kate Upton isn't just boobs-and-butt. Aiming for a rep in high-fashion — she was in that one Vogue editorial too, remember?— she looked awesome this week on the red carpet for the Samsung GALAXY launch event. And, while we may be skeptical of her foray into haute couture, she did look conservatively chic on the Upper West Side, pairing her bright red Antonio Berardi dress with a coiffed updo. Following all those nude semi-nude shots, we caught up with her to discuss being a "healthy" role model and just how her mom felt about all that skin.
You're held up as a "healthy" role model in the industry. How important is it for you to maintain that reputation?
"I think its important for all girls to be healthy — for them to feel confident about their body. If you're worried about how you look or about what other people are thinking, you'll never enjoy your own life."
From Vogue to Sports Illustrated to nude shoots, you've done heaps of different types of editorials. Do you have a favorite?
"You know, I enjoy all of my shoots. They all offer something different. Different people, different interviews... I wouldn't be able to answer that."
What did your mom say about the recent nude shoot?
"Semi-nude! I think they were done in a really beautiful way, a tasteful way. She thought they were very beautiful."
Tell us, do you really have a crush on little Harry Styles?
"It's funny, I hadn't even heard of him. I was Googling who I supposedly had a crush on!? It blew up from nowhere. But, what are you gonna do?"

Photo: Wire Image/ Courtesy of Flying Television