Don't get us wrong — we're not going to turn down a cold one when offered. But there's something about a classic cocktail that feels different. The frosty glass, the nuanced flavors, that big ol' ice cube…it just makes you want to put on some heels and wait for Clark Gable to turn up.
We're not the only ones either. Once eclipsed by contemporary cocktail menus (lychees, anyone?), classic mixology is on the rise, with one spirit in particular making a comeback: gin. Thanks to the renaissance of 1920s fashion and speakeasy-style bars, old-school gin cocktails are suddenly everywhere. And with good reason.
Not only is this spirit one of the most versatile ingredients in the liquor cabinet, it's got quite a scandalous past. From the medicine cabinets of 17th century Amsterdam to London's notorious Gin Lane to the bathtubs of Prohibition-era New York, gin is one cat that keeps coming back.
To celebrate the return of "Mother's Ruin," we've picked three of our favorites cocktails and bring you a step-by-step guide to enjoying these libations. Simple and delicious as they are, we like the fact that they've got history. Get out your shaker, dim the lights, and have a drink with the past.
The Gibson
Legend has it, The Gibson was created in the hallowed halls of The Player's Club, when a world-weary patron asked the bartender to improve on the martini. The differences are subtle, but the divide is huge. We're not taking sides (though Roger Sterling would), but we definitely like this combo in an elegant mood. Like the little black dress and the deep red lip, The Gibson is a frosty-cool classic that never goes out of style.
Ingredients:
2 1/2 oz gin
1/2 oz dry vermouth
1 or 3 cocktail onions for garnish (or five, if you're kinda hungry)
Pour all ingredients into a mixing glass, or bottom half of a shaker. Top with a handful of ice cubes.
Stir well with a cocktail spoon.
Pour into a chilled martini glass...
...and drop in your garnish.
Stirred, not shaken.
The Bee's Knees
Known for its sweet, citrus fragrance, this cocktail was created during the Prohibition era. The honey-lemon flavored drink was favored for masking the scent of booze, in case the cops decided to bust up the merrymaking. Nowadays, we love it for its fresh, tart flavor — and its cheeky past.
Ingredients:
2 oz gin
½ oz lemon juice (we just used half a lemon)
¾ honey syrup*
*Mix two parts honey and one part hot water – bam! Honey syrup!
Pour ingredients into a shaker, topping with honey syrup. Fill the shaker halfway with ice.
Shake it (not really like a Polaroid picture).
...and serve a drink with a story.
The Southside
The story of The Southside is a either down and dirty or white-glove — depending on who you ask. No one's quite sure whether it was created by the booze-runners of Chicago's southside gang or Manhattan's renowned 21 Club back in its speakeasy days. Either way, 21 still counts it as its signature sip, and we can certainly see why. Both refreshing and relaxing, The Southside's mix of mint, lime, and fizz suits just about any crowd.
Ingredients:
2 oz gin
1 oz simple syrup *
½ a fresh lime
2 sprigs of mint (plus one for garnish)
A splash of club soda
*Just as easy as honey syrup: Mix two parts sugar and one part water. Let it boil for two minutes, then cool. What's simpler than that?
Slice lime into wedges, squeeze juice into the shaker, and then drop them in with the mint.
Top with syrup...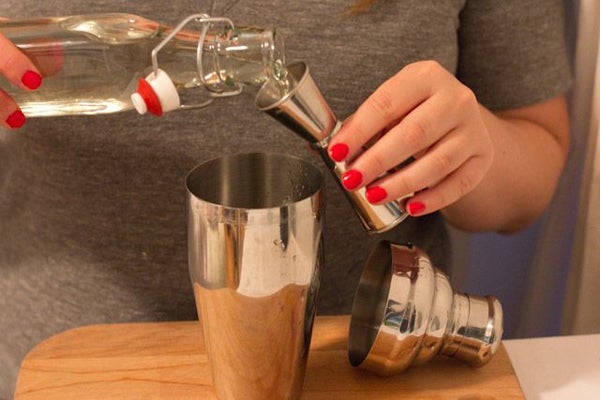 ...and muddle to express the mint extract and lime oil from the peel. (If you don't have a muddler, try the handle of a wooden spoon.)
Add gin, fill the shaker halfway with crushed ice, and shake with a rolling motion.
Pour the cocktail into a glass ¾ of the way up, then top with a splash of club soda and your garnish.
Now, take a sip and choose your legend.
There are hundreds of classic gin cocktails out there, and picking these three was no easy feat. Now, it's your turn — what's your gin jam?