Photo: Courtesy of H&M.
Always on the search for the next beauty breakthrough, Julie Macklowe — founder of skin care line vbeauté — is divulging her tips and tricks for refining your visage.
With the holidays ahead, it's already hard enough to find time to get to the gym — much less want to. But, it turns out that getting your blood pumping does more than just benefit your body; it also benefits your complexion! Is that enough motivation to tie up those laces? Luckily, even if you're not a treadmill fanatic (I prefer kite surfing, myself), you can still reap the benefits, as long as you work up a sweat.
"Exercise causes increased blood flow to all of your organs, and the skin is the largest organ in the body," says Dr. Gervaise Gerstner, Manhattan Dermatologist and Associate Clinical Professor of Dermatology at Mt. Sinai Hospital, not to mention my personal dermatologist. "When you're working out, the blood vessels are engorged and pumping more blood, so the skin receives more nutrients and oxygen."
Another added benefit of exercise? Beyond a shrinking waistline and majorly toned gams, according to Lou Abato, Certified Super Slow Master and Trainer in NYC, exercising also alleviates stress — and that can
keep acne at bay
. Getting your heart pumping "helps
nourish skin cells
and keep them vital, while helping carry away waste products from working cells," he says.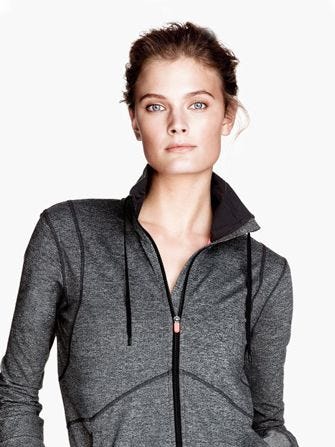 Photo: Courtesy of H&M.
Of course, it's equally important to stay hydrated, since the first place
dehydration shows up
is on your skin — especially your face. But, if you're chugging water and still feeling parched, Susan Cukiernik, R.D. Medical Nutrition Therapist recommends sipping on nutrient-rich coconut water. Not only does it have more potassium than a banana, but its energy-generating electrolytes help you recover post-workout. My favorite is Harmless Harvest's 100% Raw Coconut Water: it's a tad expensive (about $8 for a 16 oz bottle), but it has no added sugar and is downright
delicious
.
Still, if you wait to cleanse after a long, sweaty workout, you'll offend your skin. "Sweating can negatively affect your skin if it collects under occlusive clothing like tight spandex and cause acne and folliculitis," says Dr. Gerstner. "I recommend my patients use a
gentle foaming cleanser
so they can avoid the negatives of sweat but still get benefits."
Next time you're trying to build up enough motivation to workout, just remember: The result not only affects your body and your general health, but it can help keep your visage in tip-top shape. Now go on and show off that post-workout glow!