In the heart of Dalston, gentrification is alive, well, and wearing a pair of Jeffrey Campbell creepers. But even though hipster hot spots surround the local, off-license greengrocers and street markets up here near the northern section of Kingsland and Stoke Newington, there's a strong commitment to community, too.
That's one of the many reasons we never stray far from the "The Strip" for too long. The fact that some of our favorite venues, salons, and brunch spots in town are up here on E8 doesn't hurt either. Click on to see where you can find us whenever we travel up the A10.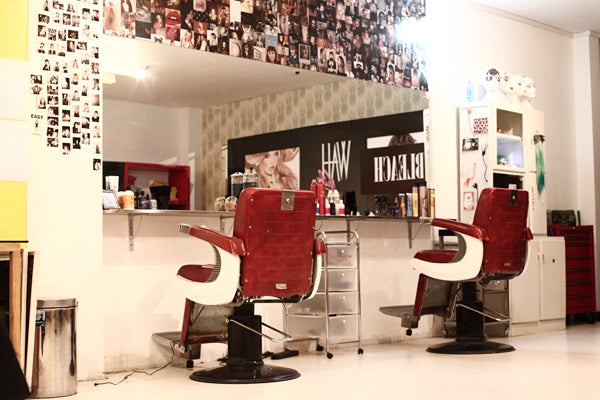 BLEACH London / WAH Nails — Owned and operated by stylist Alex Brownsell and agent Sam Teasdale, BLEACH London is responsible for bringing dip dyes mainstream. The hairdressers here will happily turn your hair any candy-colored shade of the rainbow you want (though you folks in finance might want to opt for standard blond highlights). There's also a small outpost of the WAH nail-art boutique on site where you can get practically anything painted on your digits.
Photo: Courtesy of BLEACH London / WAH Nails
Birthdays — A prime spot to catch next big things and established acts (Bloc Party, Iggy Azalea, and Ms Mr) in an intimate setting, Dalston's newest dive and music venue is owned and operated by the folks from Real Gold and the Alibi. The satisfying American diner food at the ground-floor cocktail bar comes courtesy of Rita's Bar and Dining. Expect free entry most nights to the bar, but you will likely have to shell out a few pounds to see a gig.
Photo: Courtesy of Birthdays

LN-CC — Tucked away in an unassuming building on Shacklewell Lane, set designer Gary Card's LN-CC (Late Night Chameleon Club) is one of the pinnacles of forward-thinking London fashion. Rick Owens, Ann Demeulemeester, and Peter Pilotto — they're all here. The arresting interior architecture also houses a variety of books and music and has a club space for private events. Be sure to call or email before popping in, though. Like anything truly special, LN-CC operates on an appointment-only basis.
Barden's Boudoir — Barden's Boudoir (that's "Bardy's" to us) is a former dive-turned-modern-café and evening hangout. During the day, it's sandwiches, brunch fare, and Monmouth coffee. After 5 p.m., though, things kick up with a crowd of post-work patrons pregaming for the night in reasonably priced tipples.
Photo: Courtesy of Barden's Boudoir
Pelicans and Parrots — A blend of your grandmother's closet and a Victorian natural history textbook, Pelicans and Parrots excels at men and women's vintage clothing and home decor. If you've been on the hunt for a silver-plated deer head or a stuffed peacock, look no further. Run by long-time Dalston resident Juliet da Silva and her partner, Pelicans and Parrots has no shortage of silk blouses (for work) or sparkly bustiers (for, um, Vegas?). Not to be missed is the edited collection of furniture at Pelicans and Parrots Black, located just up the street.
Photographed by Fiona Kirkpatrick
Vortex Jazz Club — Thanks to volunteers and funded by community donations, this Dalston institution has been serving up good eats, jazz, and experimental music seven days a week for almost 30 years. Set back from the Strip on Gillett Street in the Dalston Culture House, the Vortex contains a small café downstairs that hosts the occasional film screening. Upstairs, bands like Polar Bear and Portico Quartet hold the stage. Oh, and tickets typically cost £5-15, so you're bound to get your money's worth.
Photographed by Fiona Kirkpatrick
Kristina Records — Open for about a year and a half, this new and secondhand vinyl shop just north of Dalston Kingsland station spans genres and houses a killer collection of underground music. Though you won't find Renée Zellweger manning the phones, you'll be treated to a healthy dose of local banter along with your amazing analog finds.
Photographed by Fiona Kirkpatrick
Towpath Café — On the rare sunny afternoon in London, nothing beats enjoying a glass of wine and a grilled cheese (yeah, we said it) at the Towpath Café (so named because it's only accessible from the Regent's Canal towpath). A people-watcher's paradise, the Towpath offers a short but sweet selection of coffees, drinks, and tasty bites courtesy of owners Lori de Mor and her husband, Jason Lowe. Grab a table while you can.
Towpath Café, 42 De Beauvoir Crescent; +44 (0)20 7254 7606.

Photo: Courtesy of Towpath Café
Oxfam — This isn't your local Oxfam. No. It's a community institution, a mecca for East London bargain hunters. Store managers Steve and Kevin are always on hand to help customers, and a large team of volunteers and plenty of willing and hip local donors mean that the shop is constantly updating its stock. We mean, who wouldn't want to at least peek at what Dalston donates, right?
Passing Clouds — It's hard to describe exactly what Passing Clouds is. You've got your yoga classes, film screenings, dance lessons, free communal dinner on Sundays, and at least a dozen other fair-trade, organic, and holistic happenings every week. After hours, it offers an eclectic mix of live music — a great late-night alternative to vodka-soaked basement bars. Banana beer and reggae? Can you see why we're having a problem explaining this one?
Photo: Courtesy of Passing Clouds