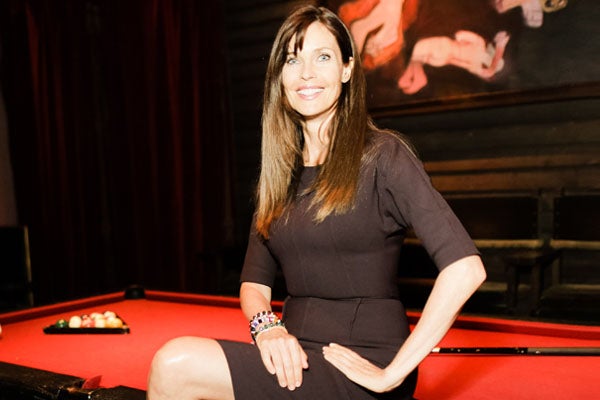 Last night saw the debut of Timothy Greenfield–Sanders' supermodel film on HBO. And were you watching? In
About Face: Supermodels Then And Now
, documentarian and portrait photog, Greenfield-Sanders takes to the lens with some of the best-known beauties from the latter half of the 21st century. Getting personal with the likes of Jerry Hall, Isabella Rossellini and Carol Alt, we get the chance to hear first hand about what life is like was like on the inside, and viewpoints on the changing of the times.
Providing only relatively shallow insights into the industry, Timothy Greenfield-Sanders let us only see fragments of the girls' thoughts on plastic surgery, drugs and all those other horrors, before zipping on to another topic or shot. Doesn't he know we were thirsty for more?
Forming the finale of the Rose Bar Screenings, we stopped by the romantic venue for a quick up-close-and-personal with screen talent and 'former' model, Carol Alt.
Have you seen the film already?
I have, 5 times.
Wow, you must like it?
Actually, I was surprised I liked it so much. Truthfully, you get nervous about how people are going to cut you, how people are going to see you. Anyone can take a negative bend on something and look for what they want to achieve, but Timothy had a specific thing in mind and he knew what he wanted to achieve.
Where did you first see the film?
First time I saw it I was at Sundance. I saw the first 10 minutes of it, and didn't see me at all, just the first 5 girls. Then we went to the screening so first time I saw myself in it, my face was the size of the wall! I was with other people so that's always a little bit scary.
As a model, how did you respond to seeing yourself in print?
I didn't, ever. I always saw it published after the fact. I only was in modelling for 4 or 5 years, then I started theatre and movies, so I was always on a set somewhere when a cover came out, or a movie came out. I've never seen any of my movies, I feel good about that.
You look terrific, but how do you deal with aging?
At 34, I felt and looked older than I do now, and I had a really hard time keeping my weight down. I was introduced to a pathologist of raw food. I had no idea what it was, but proved to be the biggest miracle. Now, all the issues my peers are going through I don't yet seem to have.
What are your views on the industry today; obviously there are a lot of issues…
Yeah, I wish they would allow me out there to speak to these girls. I would love to speak to these girls.
And what would you say to the girls?
Eat well. Eat intelligently. Eat with an education.

Photo: TK photographer/ BFAnyc courtesy of PR Consulting