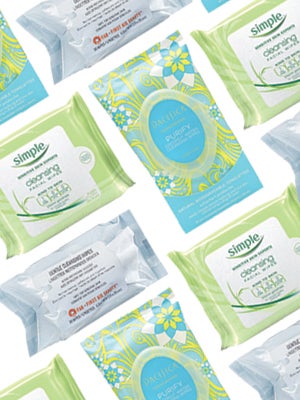 Facial cleansing wipes are a lazy girl's best friend when it comes to late-night makeup removal, right? Well, that's the idea, but sadly, many wipes can be harsh, greasy, or just plain ineffective, rendering the time and energy saved at the sink totally worthless.
To find out which wipes are truly worthy of a spot on your bedside table, we tried out three different types of cleansing cloths, and we've got the verdicts as to whether the wipes got the job done.
Read on to find out what our R29 ladies thought of the wipes and whether they'd buy them themselves, and let us know: what's your fail-safe makeup removal method?
Who: Gabriela Alford, senior designer
The Contender: Simple Skincare Cleansing Facial Wipes
"On an average day, I don't use tons of makeup — I usually wear eyeliner, fill in my eyebrows, add some blush, and finish with lipstick. When I take off my makeup at night, I'm pretty loyal to my Caudalie makeup remover, and I'm not usually a fan of wipes — but I'm always willing to try something new.
"The Simple wipes were pretty moist, but not overly so. It was pretty easy to remove my eye makeup. The wipes (thankfully) didn't make my eyes burn at first, but a little bit after I used them, they felt a little bit irritated. However, I did think that they did a great job at removing my makeup.
"After using the wipes, my skin didn't feel greasy or sticky. It felt pretty fresh — but I did feel like I had just used makeup remover. My skin is pretty sensitive, so I usually wash my face after removing my makeup, but I didn't this time."
The Result: "I'm pretty loyal to my Caudalie remover, but these wipes did a great job of taking off my makeup — I'd definitely recommend these to anyone looking for a good, effective cleansing wipe."
Who: Emily Kowzan, designer
The Contender: Pacifica Purify Coconut Water Cleansing Wipes
"On a daily basis, I wear a small amount of foundation and eye makeup — with the exception of those days I want to spice things up with heavier eye. I had never used cleansing wipes before — I usually just apply moisturizer to those areas I need clean, and the makeup comes off pretty easily.
"I was excited to try this product, since I don't use makeup wipes on a regular basis. It also didn't hurt that packaging was beautiful! But when I used one of the wipes, it required a good amount of scrubbing to get my makeup off. Despite this being a paraben-free product that's mostly free of irritating ingredients like phthalates and mineral oil, I was surprised that my skin did start burning a bit when I used the wipe. It did, however, do a great job of removing my makeup.
The Result: "After using the wipe, my skin felt very fresh. I would recommend this product, since it got the job done and smells amazing. It did slightly irritate my face while I used it, but that could just be because my skin is super-sensitive. I actually just returned from vacation, and totally wish I had brought these wipes with me to freshen up after the beach and the plane ride!"
Who: Charlene Chang, senior manager, commerce partnerships
The Contender: First Aid Beauty Gentle Cleansing Wipes
"I wear minimal makeup on my face, but I do go a little heavy on the eyeliner. My normal makeup removing routine involves a makeup wipe, followed by a soft cleanser and a night cream. I use Neutrogena makeup wipes, and I love them because they're easy to pack (I love to travel, and don't want a bag full of liquids since I usually pack a carry-on), and enjoy them enough to order them in bulk so I don't run out.
"I was skeptical about trying new makeup wipes because I've tested a few before, and I was afraid that these wipes might irritate my skin. I was also concerned that this cleansing wipe might not be able to remove all of my long-wear eyeliner.
"I thought the First Aid wipes were good. They weren't too moist, but they had enough product on them to remove my eye makeup thoroughly. Surprisingly, this wipe definitely removed my eye makeup in one fell swoop (impressive!), but then there was a slight burning that lingered for about 30 seconds on my skin, which was very uncomfortable. My skin felt a little greasy after using the wipe, but it wasn't that noticeable."
The Result: "While it's important to try out a new skin care product to make sure you don't have a bad reaction to it, I was impressed that I didn't have to rub several times for my eye makeup to come off. It was awesome be able to remove the day's makeup in one quick swipe!"