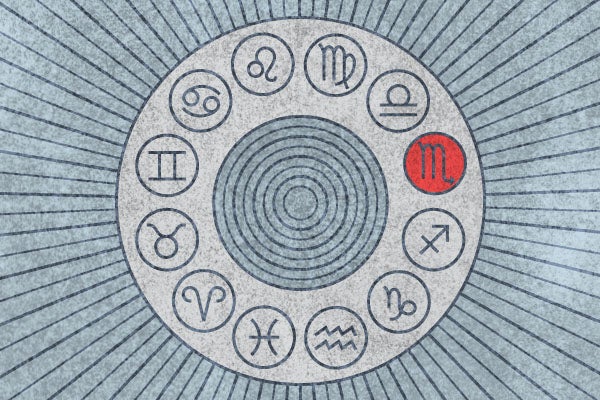 Aries (March 21-April 19)
Even though you haven't been in a strict routine for a while, you're starting to feel like you need a break. A journey to some beautiful exotic land in the spring is in order, and it should give you some time to learn about yourself.
Taurus (April 20-May 20)
Having money in the bank always makes you feel better, however it's not the answer to your spiritual well-being. This week, address what the definition of well-being is to you.
Gemini (May 21-June 20)
This week is full of communication glitches and it may prove to be very frustrating unless you learn to deal with stress in a different way. Meditation, massage, and acupuncture are all calling your name.
Cancer (June 21-July 22)
Past love attachments that you thought you were over may rear their ugly head this week. This is only so you can move on and be with the person who you know is more suitable for you.
Leo (July 23-August 22)
Physical ailments need your attention right now. Rethink your diet and exercise regimen; you've got to change things up in order to be more effective.
Virgo (August 23-September 22)
It's really hard to stay organized and focused amidst all of the chaos in your life at the moment. Unfortunately, you're just going to have to ride it out because there's no time to stop moving.
Libra (September 23-October 22)
There needs to be better communication in every single area of your life. Both business and social arenas require some attention.
Scorpio (October 23-November 21)
You will be dealing with some very serious romantic issues, and getting them aligned once and for all. Be brave and honest in your dealings with your heart this week. You can do it.
Sagittarius (November 22-December 21)
A new business venture will need your attention, along with possibly bringing in partners to expand your idea before it launches. Thoroughly think through your strategy before taking a step forward.
Capricorn (December 22-January 19)
All that grueling hard work is finally paying off. You are starting to see the fruits of your labor, and will continue to throughout next month.
Aquarius (January 20-February 19)
There is so much going on in your own mind that it may be hard to deal with the outside world at present. Feel free to take a lot of alone time. You will need it.
Pisces (February 20-March 20)
This week will be a time for reflection. Focus on healing deep wounds that have plagued you for a very long time. And rest assured that this will be the final session of healing — for the time being.