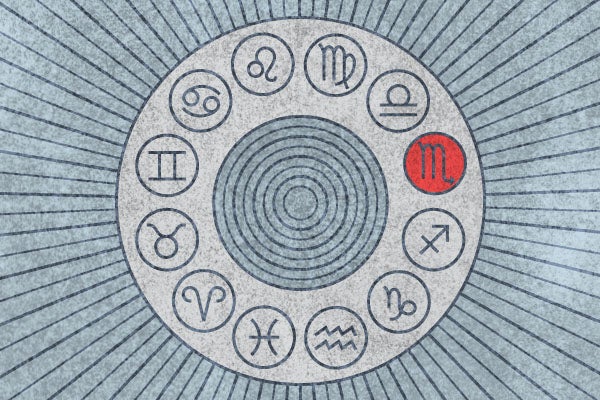 Aries (March 21-April 19)
Freedom and authenticity are very important to you. And discipline will actually further these qualities. It's time to get structure in your life.
Taurus (April 20-May 20)
You have probably worked the hardest you ever have in your life this year. As grueling as it's been, rewards are right around the corner.
Gemini (May 21-June 20)
Ah, love. It is the most important thing in life, but remember: You cannot live on it. Mindfully find your passion in all things this week and balance will come to you naturally.
Cancer (June 21-July 22)
No matter how hard you try, yours is the sign of the nurturer, mother, care-taker. But, this week will be about nurturing yourself for a change.
Leo (July 23-August 22)
Things are moving in your life, and you've learned to be a bit more flexible in finding just the right place to live, work, etc. There is still a distance to go, but you have made great strides. Be proud of that.
Virgo (August 23-September 22)
Routine makes you feel comfortable, but not safe or taken care of. Get off the treadmill of life this week. Find ways to make yourself feel secure of for the first time...in a long time.
Libra (September 23-October 22)
It feels nice to be able to breathe again. Now, you can get your relationships back on track. Love was never lost; merely put aside.
Scorpio (October 23-November 21)
You're feeling the intensity of more responsibility but this is not necessarily a bad thing. This can be a life-transforming time for you, if you seize the moment.
Sagittarius (November 22-December 21)
The holidays are here and everyone will be counting on you for fun, laughs, and excitement. Don't worry; you still have it in you.
Capricorn (December 22-January 19)
M-O-N-E-Y, money. Yes it's all that seems to be on your mind. This week, take a look at what it can be used for. The energy knows which way to be directed for more prosperity in your life.
Aquarius (January 20-February 19)
This week should be a pretty easy one for you to coast through. You've put six months of change into your life, so you need to sit back and see where the universe is now directing you. Don't resist the new path.
Pisces (February 20-March 20)
Creativity and imagination are your favorite things in the world, so this week, be sure to share those gifts with the one you love. Expect interesting times ahead if you do.