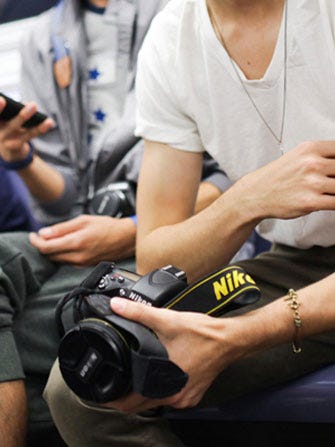 Photo by Angela Pham.
Bad news, people: You can't reasonably assume that you or any of your body parts are protected from being photographed in public, even if
you don't live in Texas
.
In June of last year, Christopher Hunt Cleveland was arrested after U.S. Park Police observed him taking photos of women sitting on the steps of the Lincoln Memorial, on the suspicion that he was taking upskirt shots. The charges against him, however,
have recently been dropped.
U.S. Attorney Akhi Johnson wrote in a filing that "it would be difficult to dispute that women generally have a subjective expectation of privacy against photographs of their private areas while wearing clothing to cover the private area."
D.C. Superior Court Judge Juliet J. McKenna disagreed. "There is no evidence Mr. Cleveland positioned his camera in any way or employed photographic techniques or illumination, so as to capture images that were not already on public display," said McKenna in her ruling, despite the fact that officers found images of women's buttocks on Cleveland's camera and similar images on his computer. McKenna also said that the officers in the case didn't have probable cause to stop or search Cleveland.
The case calls to mind
the Massachusetts man
who was accused of using his cell phone to photograph women on the Boston Green Line subway in 2010. His lawyer argued that photography should be protected by the First Amendment, or else accidentally capturing a breastfeeding woman's nipple could put the photographer in the same position as bona fide sex criminals.
And perhaps that's the unfortunate side dish that's served with our freedoms as Americans —that in order to protect the good (e.g., a free press) we must also protect the rights of the not-so-good (e.g., hate group marches). Perhaps the law fell on Cleveland's side because doing otherwise could potentially endanger future photographers from taking pictures of things in public spaces that
don't
include crotches. That's not to say that more nuanced laws shouldn't be put in place to protect people from predators. In the meantime, however, public space appears to be fair game for all. (
Washington Post
)