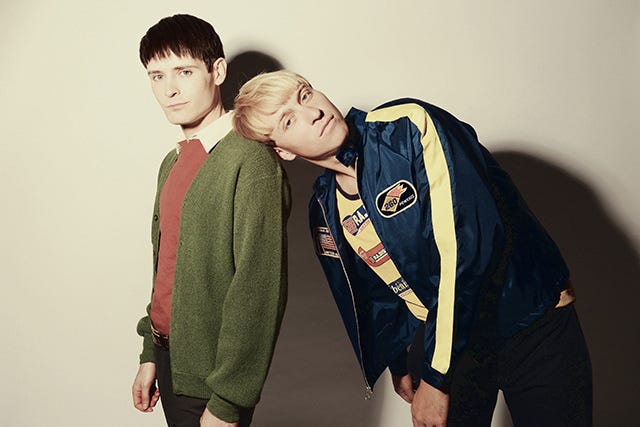 Photo: via The Fun Star.
As we careen into the fall, September is shaping up to be an exciting time for new music. This week on Refinery29, we're talking to four artists who have some of the most hotly anticipated records of the month. While all could be, and have been, loosely tagged with that increasingly meaningless description "indie," they come at their work from different places, with wildly contrasting personalities and inspirations. These artists are not new to the scene. But, all four have found new voices with their latest work — unanticipated turns, exploratory moves, and re-invigoration. They are all well worth your time.
It's no accident that there seems to be extra room on the sofa next to Jacob Graham and Jonathan Pierce on the cover of The Drums' brand-new third album, Encyclopedia. For the first time since 2009, when it released the beloved debut EP, Summertime!, The Drums are back to being a duo.
Following a whirlwind few years that saw the boys release two albums, tour relentlessly, and build a wildly devoted following, Jacob and Jonny resolved to take a good long break in 2012. Drummer and friend Connor Hanwick had abruptly left the band while on tour, they had split with their label Island Records, jettisoned their management, and needed to reassess.
After dabbling with solo projects (Graham released his own LP last year under the name Cascading Slopes), The Drums decided it was time to give it another go as a duo, on its own label, Minor Records, and we're lucky it did.
Encyclopedia has a lot going on. There are reverbed, manic moments (lead track "Magic Mountain"); sweet electro with a touch of clatter ("I Can't Pretend"); pretty, poetic majesty ("Wild Geese," "I Hope That Time Doesn't Change Him"); and two pop ragers, "Face of God" and "Let Me," on which Pierce rails at two of his favorite nemeses, religion and sexual repression.
He and Graham both grew up in fundamentalist Christian small-town America (Horsehead, NY and New Waterford, OH, respectively), where God and guns are welcome, but gays, not so much. The Drums' success has allowed the two to put that life in the rear view. In fact, last fall, Pierce married Dutch photographer Jasper Rischen, and on the day of our lunchtime meet-up, he was running late because of an appointment at the DMV to change the name on his driver's license to Rischen-Pierce.
I had the impression when you took a break in 2012 that there might not even be another Drums album. Did you have your doubts? Jacob Graham: "I just kind of felt like we'd been hitting this so hard for so long, and if we tried to do another record right away, and just rush it out, and keep the whole machine going, it would have suffered because of it. And, I think that had we done that, the band probably would have actually broken up, because it was getting to be too much. I mean, I know a lot of people do it, but I think those people love being on the road, and that's their life. And, I am not that at all. I hate touring, hate being away from home. I'm a real homebody, old-lady type."
So, you didn't want to get right back on the treadmill?

JG: "I just thought, we've got to really make a record that's gonna stand out. I felt we should try to make a career-defining record. And, I don't know if we accomplished that, but I am thrilled with how it turned out."
Jonathan Pierce: "I think deep down I always knew there would be one. But, I really had no idea what it would be like, what it would sound like, whether we would be doing this as a duo, if we would be bringing in new official members — there was so much that was kind of up in the air. And, also, we just hadn't had a chance to sort of explore our own lives and live a little bit and gain new experiences. We'd been on the road constantly, you know?"
You went from the first album right into the second.

JP: "We went from an EP to a record to another record all without coming off tour. So, I think it was really essential for us to take the time that we took. Had somebody in some hypothetical label situation said, 'We need a record and we need it now,' in 2012, or even 2013, whatever — if we were under any sort of pressure like that, we would've either broken up or made a record that neither of us were proud of. So, what happened was exactly what needed to happen, which is that we just took our time."
The first taste of the record most of us got was "Magic Mountain," which was a radical change. There were definitely jaws dropping with that one.

JP: "And, doors slamming shut? [Laughs]"
See, I don't get the doors slamming shut thing. I don't know anyone who didn't find it really refreshing.

JP: "Not so much from the press. I think the press liked it. But, some of our 'Let's Go Surfing' fans were a little shocked."
What, they want you to do 15 more songs like "Let's Go Surfing"?

JP: "[Shrugs] Hey man, we're right there with you."
In any case, it's hardly representative of the whole album. There's all kinds of songs on there.

JG: "That was the idea, to kind of let there be more variety on this album than we have ever allowed ourselves to do in the past."
JP: "When we started talking about the kind of record we wanted, I wanted to make sort of a garage-y, tin can sort of sound, but with pop songs. And, Jacob wanted to do pop as well, but he wanted it to be extravagant and majestic."
JG: "The Sound of Music with synthesizers!"
JP: "Yeah, so we were at completely different places, at least with what instruments we wanted to use and the actual sound. But, at the core, I think what we wanted to do was just write beautiful songs. That always stays the same. So, we agreed there — let's just stick to the type of songs we do, but we sort of decided we would just mesh The Sound of Music with a garage record."
Photo: Courtesy of Minor Records.
What a mix. Well one of the prettiest, not-too-garage-y tracks is the closer "Wild Geese." Jacob, that was originally your song?

JG: "Yeah, that song was on my solo record. And, so it's the first Drums song that I've ever written lyrics on. Which is interesting, and kind of strange. I'm kind of a private person, so I don't really like the idea of putting my lyrics out there, emotional things. I'm just kind of like the most sappy, sentimental person in the world. But, then I'm also kind of shy about showing someone. So, when Jonny called me and was like 'Hey, I love this song! Can we do it for the Drums record?' my first response was like, 'Absolutely not.' Just 'cause I also think 'Wild Geese' is the most kind of dear to my heart thing that I've ever written."
It struck me that even though it's sonically way different from the clattering opener in "Magic Mountain," the idea behind the two songs seems to be the same, sort of an "us against the world" notion.

JP: "This whole album is really all about building a safe place to exist in, with like-minded individuals who have been outcasts or misunderstood or attacked. That's sort of the over all theme I think, from beginning to end. So, to me, it's not a big shocker that the first and last song sort of bookend that idea. On this album we just wanted it to be as transparent as we could be. Fully transparent, for the first time, you know? There's no cutting corners to play it safe or. If we want to write a song about homosexual love, then we'll do it. And, we'll take whatever risk is involved with that. You know, our label tell us 15-year-old girls are one of our biggest demographics, who actually buy our records and stuff, and I don't know if that would appeal to them. But, maybe it would you know?"
Fifteen-year-old girls today are a lot more okay with that stuff today than they were 15 years ago.

JG: "And, probably a lot more than adults give them credit for."
Exactly. Even since the last interview we did in 2012, when we were talking about the crazy way in which attitudes were changing about marriage equality, and now it seems to be going at double speed.

JP: "I was just at the DMV, where they're famous for being crabby assholes, and when the woman saw my marriage certificate to Jasper she just brightened up, and she was like, 'Congratulations!' And, who would've known that I would be sitting here and be able to say something like that, you know?"
Of course, it's not that way everywhere. There's a really in-your-face track on the album called "Let Me" that was partly inspired by events in Russia?

JP: "Yeah, it just came from, you know, finally being fed up to the point where you can't take it anymore. Hiding, or turning the other way, and not just going for it, you know? It was when those gay abuse stories started coming out of Russia, like one right after the other. That was the inspiration for that song. These kids were getting lured into these setup 'dates'…"
And, then getting the shit beat out of them.

JP: "Yeah, and it's like, ugh, I want to tell them to be careful, but I also wanna tell them to just be who they are and go for it, you know? We're going to Russia in like two weeks."
To play?

JG: "Yeah, but maybe for the last time. [Laughs] 'Cause then the record will come out."
Given everything that has happened there in the last couple of years, you don't have any qualms about going there and playing?

JG: "I think if we were asked to go there and play the Olympics or something that would be a different sort of thing. But, I feel like there's a lot of bad stuff going on in that country, and it's not the fault of LGBT teenagers. It's not our fans' fault. And, to just like add to their awful situations by just avoiding them, that's not right. That's kind of how we feel. We're not going there in support of the government."
JP: "It's a way of providing aid. It's providing relief of some sort for the kids."
Jonny, on "Face of God," the man upstairs is telling you how to live, and you throw it back at him. And, on your last album's "Book of Revelation" you questioned the afterlife. I imagine with both your parents being Pentecostal pastors, religion will always work its way into the music?

JP: "Probably, because it's something that's really important to me. I mean, I will be the first to say it's completely reactive to where I came from. But, I don't think that's a bad thing. I think that for me, I can say with complete certainty that if the idea of God and religion and loyalty to Jesus and following some mystic 'thing' wasn't introduced into my life, a lot of the big issues I have with myself, my self-worth, my self-image and my relationship to people around me and my place in the world, a lot of those problems, those issues that are all in my head would be fixed. Or, at least I don't think I would have such a difficult time with them. I can sit here right now and say I don't believe in any sort of God or anything. I mean, Jasper will reach down and grab my hand when we're walking on West 4th Steet or something, and for that split second I'll be like, 'Oh don't — somebody's gonna see!' And, that makes me so angry that I still do that. It's like, why can't I just live free? It's because I have 30 years of that shit stuffed down my throat. I know that's what it is."
It's Dr. Martin Luther King who said that the arc of the moral universe is a long one, but it bends toward justice. And, I would add to that equality and love. I think if we got in a time machine and went 50 years into the future, that small town America and even Russia will be much further along than they are now.

JP: "Yeah. Liberalism always wins, but it sometimes just takes a long time."
Especially if the church is involved.

JP: "You don't have to tell me, buddy. [Laughs]"
The Drums' Encyclopedia is out September 23. They begin a US tour September 15 in Philadelphia. Dates below.
9/15 Philadelphia, PA at the First Unitarian Church

9/16 Brooklyn, NY at Music Hall of Williamsburg

9/17 Washington, DC at 9:30

9/20 New York, NY at Bowery Ballroom

9/22 Boston, MA at Brighton Music Hall

9/24 Montreal, QC at Cabaret Mile-End

9/25 Toronto, ON at Danforth Music Hall

9/27 Chicago, IL at Bottom Lounge

9/29 Minneapolis, MN at Triple Rock

10/1 Denver, CO at Gothic Theatre

10/2 Salt Lake City, UT at Urban Lounge

10/3 Sacramento, CA at TBD FESTIVAL

10/5 Los Angeles, CA at Mayan Theatre

10/6 San Francisco, CA at Great American Music Hall

10/8 Portland, OR at Portland Star

10/9 Seattle, WA at Neumo's

10/10 Vancouver, BC at Fortune

10/12 Las Vegas, NV at Bunkhouse

10/13 San Diego, CA at Soda Bar

10/15 Tucson, AZ at Club Congress

10/16 Phoenix, AZ at Pub Rock