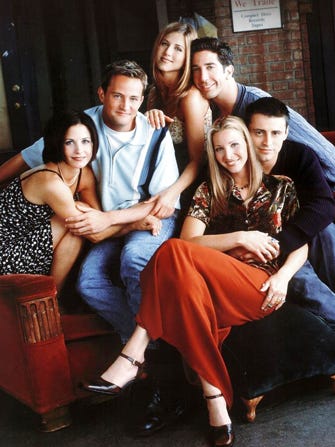 Photo: Courtesy of NBC.
Two decades after Ross, Rachel, Chandler, Monica, Phoebe, and Joey took their first sips at Central Perk, the iconic Friends coffee shop is finally being brought to life — and let's be real, some of us have been waiting 20 years for this.
According to Entertainment Weekly, Central Perk will be popping up in downtown Manhattan at 199 Lafayette Street (that was the crew's 'hood, after all). It'll be serving up free brew backed by renditions of Phoebe Buffay's greatest hits ("Smelly Cat," "Human Spleen," the list goes on). Friends fans can flock to the coffee shop from Wednesday, September 17 through Saturday, October 18, where there will be giveaways, anniversary merchandise, and trivia for those dedicated viewers who know exactly what time the opening sequence was filmed (spoiler: it was 5 a.m.).
Coordinated by Warner Bros. Television Group, Warner Bros. Consumer Products, and Eight O'Clock Coffee, Central Perk will feature a staged storefront, a collection of props used in the series, and
the
orange couch where Rachel cried before Ross kissed her, where Chandler tried breaking up with Janice, and where Joey remained consistently confused. Oh, and did we mention Gunther, the group's favorite barista, will be behind the bar serving up some specialty java? It feels like 1994 all over again. (
Entertainment Weekly
)