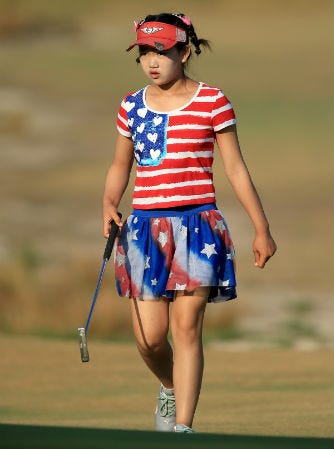 Photo: Getty Images North America.
Move over Tiger Woods. It's Lucy Li's world now, and we're just living in it. The 11-year-old golf phenom has been making waves at the U.S. Women's Open this week, as the youngest golfer to ever qualify for the prestigious tournament.
Do not adjust your screens. Li has been alive for just over a decade and is already competing against the best golfers in the world. What makes it all the more remarkable is that she only started playing the game four years ago.
Despite finishing 11 shots behind leader Stacy Lewis after the opening round, the sixth grader from the Bay Area came away the undisputed winner of the day. And, how did Li reward herself for an impressive outing? She ate an ice cream cone, of course.
While the image of the diminutive Li eating ice cream on the Pinehurst green, decked out in her stars-and-stripes outfit is a cute one, make no mistake: Lucy Li is the real deal.