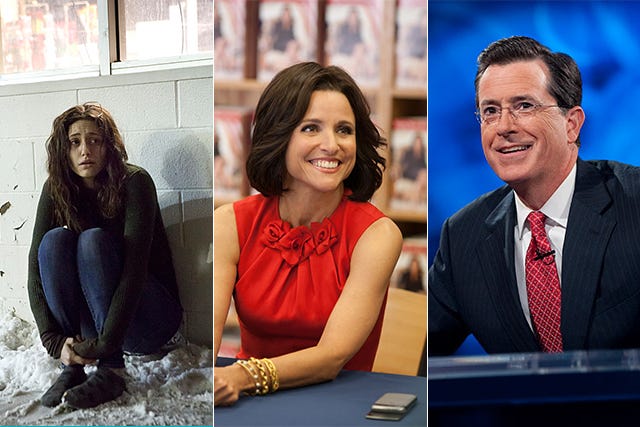 Photo: Courtesy of Chuck Hodes/SHOWTIME; Paul Schiraldi/HBO; Scott Gries/Comedy Central.
Hump: First of all, major kudos to Shameless for sending Fiona to a correctional facility without going full-blown Orange Is the New Black about it. But, really, Emmy Rossum deserves most of the credit for fully immersing herself in a role that walks such a fine line between sympathetic, sad, and questionably erratic. I'm actually interested in seeing where this whole "return of Steve" thing goes next season. I could do without the resurrection of Frank, though.
Marry:
Game recognizes game. Just kidding; I don't have any game of which to speak (as evidenced by the grammatically proper construction of that last phrase), nor should I ever say things like "game recognizes game." But, all hail the game MASTER of comedy, Julia Louis-Dreyfus. The season premiere of
Veep
? Phenom. How she handled that whole
Rolling Stone
cover Constitutional error? Flawless.
#TBT John Hancock not part of tattoo.It is a birthmark.1962 photo is proof. Apologies 2 @RollingStone #crackexcuse pic.twitter.com/h9fYXGqBSo

— Julia Louis-Dreyfus (@OfficialJLD) April 10, 2014
We are but satellites in her perfect comedy orbit. Let's all join together to write her in for president in 2016. Just put your John Hancock right here on this copy of the Constitution.
Kill: Dearly beloved, we gather here to say our goodbyes to the blowhard persona known as "Stephen Colbert." I know, his real-life portrayer Stephen Colbert doesn't officially take over Late Show hosting duties until 2015. Still, I feel as though today put an "x" on "Stephen's" chest, and there's now a ticking clock winding down to the day when we'll bid adieu to The Colbert Report's special brand of satire that only worked because of the clever character Colbert created.
Don't get me wrong, I'm happy for Colbert in the way I'd be happy for any other talented, hard-working person who gets a job that he wants and deserves. I'm just not sure the stale, old-fashioned construct of a network late-night show — with its stand-up-style monologue, intermediary segment, and interviews with celebrities promoting something — is the best use of Stephen's talents.
I'd much rather see Colbert completely take down a Congressman during an installment of "Better Know a District" than interview Kristen Stewart about whatever movie it is that made her dye her hair orange. And, I say that as someone who would rather watch the entire Twilight series than a minute of CSPAN.
I realize (and hope) that Colbert will bring with him a cadre of talented writers who will help adapt the show to suit his skills and comedic sensibility (I also volunteer as tribute writer). Still, if "Stephen Colbert" (the fictional character) could cannibalize that much of traditional networks' late-night audience in just eight years, isn't it a sign that it's time for a major change in how they handle their news programming post 11 p.m.?
One final thought: How do we get Jessica Williams and/or Samantha Bee into Colbert's empty seat on Comedy Central? Consider the grassroots campaign started. Selina Meyer and Samantha Bee 2016.