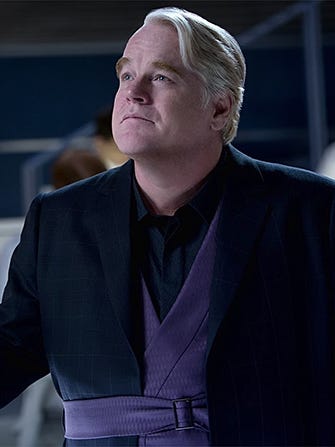 Photo: Courtesy of Lionsgate.
The sudden tragic death of
Philip Seymour Hoffman
has left both Hollywood and fans of the actor beside themselves with grief, confusion, and condolences. Amidst the outpour of sympathetic reactions, Lionsgate Entertainment has issued its own.
"Philip Seymour Hoffman was a singular talent and one of the most gifted actors of our generation," the statement reads. "We're very fortunate that he graced our Hunger Games family. Losing him in his prime is a tragedy, and we send our deepest condolences to Philip's family." Hoffman played the series' game master Plutarch Heavensbee, a role that becomes increasingly more important as the final installment unfolds.
Mockingjay
will, indeed, be split into two films so as to do justice to the narrative finale.
Vulture
reports that there were seven days of shooting left before Hoffman's sudden passing. This, however, will not affect the two release dates (November 21, 2014 and November 20, 2015). Luckily, Heavensbee will get his time to shine. Audiences, however, will likely be left with the bittersweet craving for more like Heath Ledger's performance as the Joker did during
The Dark Knight
. (
Vulture
)