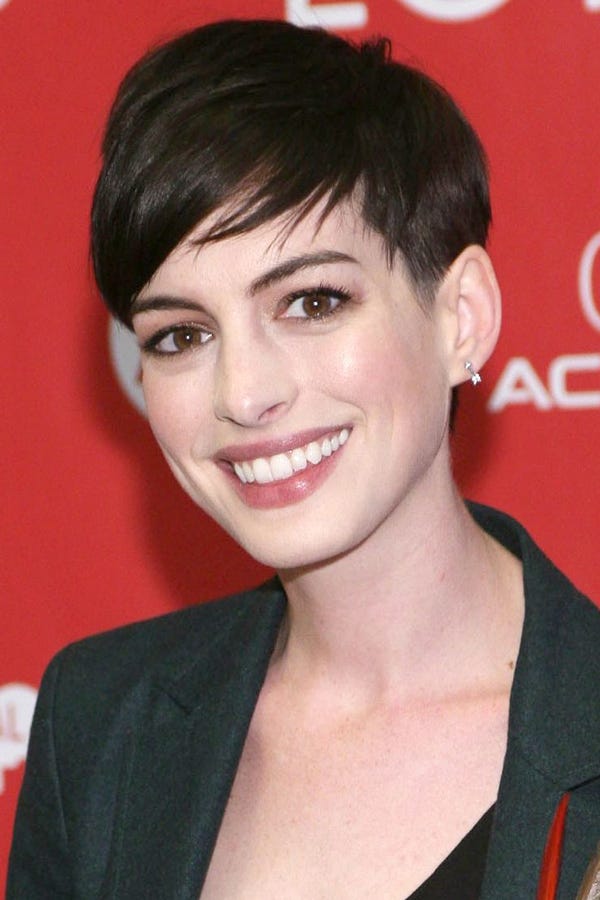 Photo: Everett Collection/REX USA.
So, it's been awhile since Anne Hathaway made her big chop for Les Misérables. And, while we think her pixie suited the actress just fine, all signs seemed to point towards Hathaway growing her hair long again. (Strategic sweeping bangs? Check.)
So, we were happily surprised to hear that her short hair is here to stay (for at least a little while longer). The actress was photographed at Sundance promoting her latest film,
Song One
with a newly shorn 'do. The style is still a little longer on the top, with her now-signature sweeping bangs, but the whole look is a little bit more choppy and edgy — likely a nod to her new music-centric film. Plus, while the actress isn't quite pulling a
Natalie Dormer
on us, the sides of her hair are so closely cropped that they almost look like the actress took a pair of clippers to her head. Of course, this was likely a very calculated move on the part of her hairstylist. But, hey, it
looks
totally rock 'n' roll.
What do you guys think of Hathaway's new, edgier 'do? Do you think the pixie suits her, or are you wishing she never chopped her Devil Wears Prada-era locks?

Like this post? There's more. Get tons of beauty tips, tutorials, and news on the Refinery29 Beauty Facebook page!