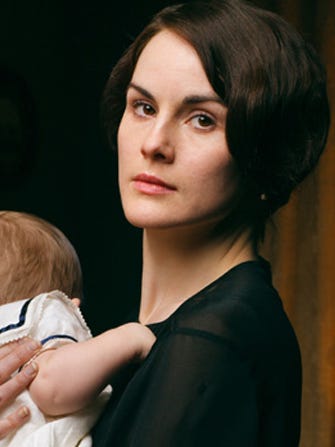 Photo: Courtesy of PBS.
In America, it's easy to forget that just across the pond, our colonist forefathers still have in place an antiquated system that celebrates economic inequality by bestowing made-up titles for people whose families have traditionally had a lot of money. In Britain, the aristocracy is still considered a serious thing, so much that a bill is now making its way through the House of Lords that would alter more than 400 years of hereditary tradition.
As it is now, only fathers can pass their titles of nobility to sons. The proposed law, dubbed the "Downton Law" after the PBS drama of the same name, would allow women to inherit titles, too. The Telegraph notes that the legislation originally included only dukes, earls, viscounts, and other hereditary peers, but it left out baronets. A campaign by four families has succeeded in adding an amendment to the bill to include baronets, too.
In Downton Abbey, Lady Mary isn't allowed to inherit the family seat because it must pass to a male heir. That's how it's gone in the real world, too; the Telegraph notes that one noble family without male children was "so disappointed not to have an heir that [the] mother cried when she learnt she had given birth to a girl."
Said Lord Monson to the Telegraph, "It is, in fact, really straightforward — there is only one issue here which is the issue of gender equality, no other issues should really be taken into account."
The irony, of course, is that a group of people with patrilineal inherited titles that historically distinguished them from the lower classes — with the exception of barons and baronets, which, like knights, were traditionally commoners — feels compelled to debate notions of equality.
Abolishing the aristocracy
would help, too. (
The Telegraph
)