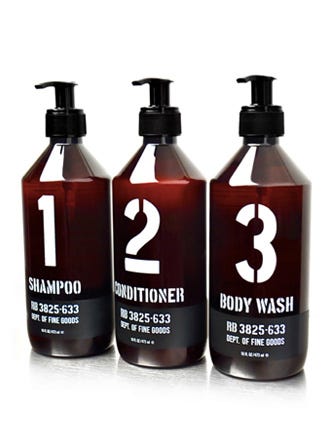 We've got good news and bad news about a brand spankin' new collab between sustainable hair care brand Davines and the equally eco-conscious folks at Rudy's Barbershop. The good? Together, they've created what might be the most universally appealing line of hair and body care there ever was. The bad? You're going to have to hide these products far, far away from house guests of all ages and stages — they're just that all-inclusive.
In fact, Davines and Rudy's designed its line to cater to even the soap-and-go bathers among us: The bottles are labeled with larger-than-life numbers — meaning your whole shower routine is now literally as easy as 1, 2, 3. And, even simpler than the bottles are the formulations inside: Since both brands are committed to eco-friendly beauty, all three products are totally natural and chock-full of wholesome, good-enough-to-eat ingredients like sweet-almond protein and olive oil.
If you could use some good, old-fashioned simplification of your washing regimen, there are a couple of ways to get your hands on this line: online through Rudy's Barbershop as well as at its brick-and-mortar salons. Or, if you fancy a little bit of a vacation, Ace Hotels in Seattle, Palm Springs, New York, and London will stock the products in guest rooms. When the amenities are this good, there's no harm in planning your next trip around your hotel, right?

Like this post? There's more. Get tons of beauty tips, tutorials, and news on the Refinery29 Beauty Facebook page. Like us on Facebook — we'll see you there!