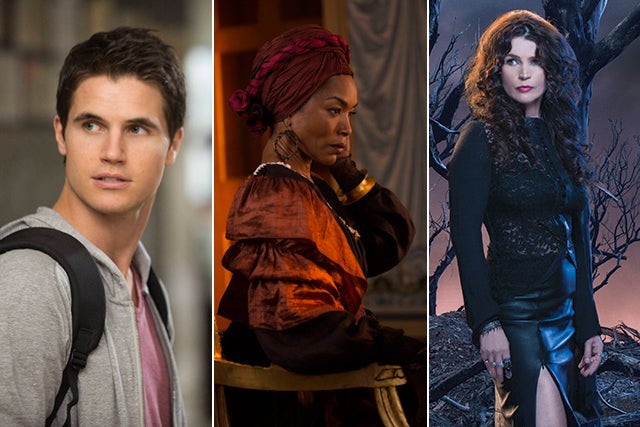 Photo: Courtesy of The CW; Courtesy of Michele K. Short/FX; Courtesy of Mitch Jenkins/Lifetime.
Hump: Holy beautiful love child of Colin Egglesfield, vintage Peter Facinelli, and Darren Criss, Batman! The CW's stable of brooding, dark-haired, blue-eyed hunks acquired a perfect new specimen in the form of none other than equally handsome Stephen Amell's cousin, Robbie, on The Tomorrow People. He's kindaaaaaa got a bit of Taylor Lautner "Huh? What? Me? Acting? Is this it?" face mixed in there, but I'm willing to give him the benefit of the doubt because it's The CW, not anything with Michael Fassbender*. Also, I'm not entirely sure what the show is about (is it like The Matrix but with CW-style superheroes and HAL from 2001: A Space Odyssey?)**, so who knows, he could be turning in an Emmy-winning performance.
*Semi-related: Want to fall deeply in love with Fassy and Charlize Theron in less than a minute? Watch
this
. We should probably start stockpiling their DNA in case the world ever needs to be repopulated by superhumans.
**Yes, I watched the whole episode. No, that didn't clear anything up.
Marry:
The Internet says that Angela Bassett is 55, but clearly she's practicing the same voodoo magic as her character on
American Horror Story: Coven
to get that ridiculously gorgeous, glowing skin. People who age that well are clearly practicing the Dark Arts, and I won't hear anything to the contrary. So, save your sane anti-aging skin tips,
Megan McIntyre
(my personal beauty guru), I saw you cheating off Hermione in Potions last week.
Kill: Julia Ormond, you are better than this. If you wanted to be on a show about witches, surely you could have used your feminine wiles to charm Ryan Murphy into a role on American Horror Story: Coven. You're Megan Draper's mother, for goodness sake. You had an affair with silver fox Roger Sterling. You shouldn't be slumming it on Lifetime in The Witches of East End, which can't seem to figure out if it wants to dive head-first into full-on camp or take itself seriously. I mean, as seriously as you can take a woman whose "curse" is to continually get pregnant, have two daughters, then watch them die once they learn about their powers. Oh, and now a shape-shifter is running around town looking like her and murdering people. As seriously as those two things can be taken, I guess.