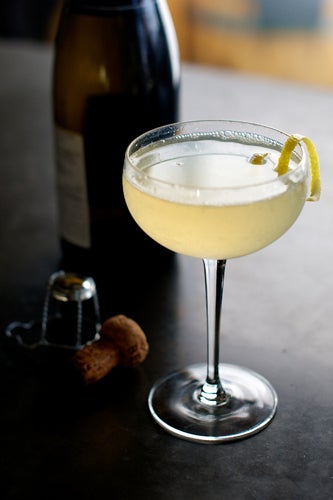 How are you planning to celebrate the royal birth? Parade? Black-tie ball? Three-day mosh-pit dance party? We know. We're freaking out too. But, however you decide to fête the new prince/ss, you're going to need some libations. Thank goodness, the royal baby already has a signature cocktail.
Anticipating worldwide glass-clinking upon Kate Middleton's delivery, Tanqueray has released the recipe for The HRH, a light & fizzy quaff fit for a future queen (or king). It's a combo of gin, lemon, and champagne (quite similar to the French 75) — for the baby with discerning tastes. So, bust out your finest infant-celebrating outfit, and enjoy this cocktail as you hover over your computer, waiting for the news of the little one's arrival. We can't wait to have a drink with this baby.

The HRH

1.25 oz Tanqueray London Dry Gin .5 oz simple syrup .5 oz lemon juice Top with Champagne Shake and strain into a coupe glass and top with champagne.

Photo: courtesy of Tanqueray