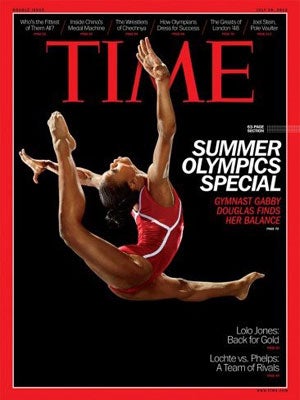 Gymnastics, with its scrunchies, glitter, and fancy-(no)pants moves, has always been a darling among Olympic sports. This year was no different, and yet the competition held a particularly special place in American hearts. From the heartbreak we felt when shoo-in Jordyn Wieber just missed qualifying for the all-around competition to the jubilation we felt at seeing [SPOILER!!] Gabby claim the gold today, the 2012 Olympics have been a great time to feel some American pride in a sport that's often been just out of our reach in the past (only four American gymnasts have placed in the history of the games).
The one thing that's bigger than our Team USA pride right now is our affection for Gabby, and that's not just because she won the title of a lifetime. From the moment she
covered
Time
magazine to that final thrilling flip, we've been rooting for this bright-eyed 16-year-old. You
expect
any Olympian to be overjoyed at the honor to even participate, but this girl's smile and positive attitude are positively infectious. We've never seen a gymnast, or
any
athlete for that matter, maintain such a natural, easy grin while simultaneously twisting her limbs in ways we never thought possible (
case in point
). We wouldn't exactly call her an underdog – not sure if that really exists at this level – but she managed to wash away any resentment even the hardcore Jordyn fans in our office expected to feel for the new reigning champ. All that goodness, combined with the fact that she's the first African-American woman to win an all-around Olympic title, brought more than a few tears to our eyes.
So, we just want to say: Congrats, Gabby. You're an inspiration to all of us and a star in more ways than one.