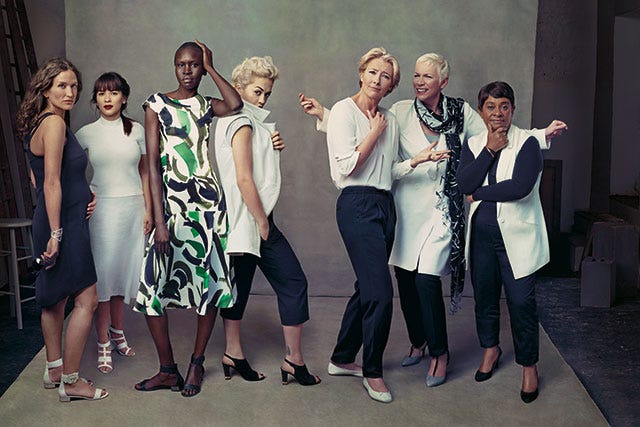 Photo: Courtesy of Marks and Spencer.
Marks and Spencer strolls into spring with its latest ad campaign starring some of Britain's most inspiring women. It is the second time the High Street retailer has joined forces with photographer Annie Leibovitz to create a trio of images that celebrate the diversity of personal style.
Stepping in front of the lens is Emma Thompson, Annie Lennox, Rita Ora, Alex Wek, Rachel Khoo, Baroness Lawrence of Clarendon OBE, and Lulu Kennedy. Each woman is a leader in her particular field and has a wicked smart sense of fashion to boot.
In the
behind-the-scenes video
, the amazing ladies are more than happy to articulate exactly what they're looking for when it comes to clothing. Thompson admits to not owning a handbag until she was 30 and copied Annie Lennox's look when she was younger. Even though Fashion East founder Lulu Kennedy is a street-style sensation, she's never felt any pressure to dress a certain way. It's all about representing the brands she knows and loves.
And, if you want to snag the looks these exceptional women are wearing? You're in luck, as every single piece will be available on March 31. Watch
the entire clip
to see these Brit beauties get serious about fashion — and let us know in the comments who inspires your personal style.

Like this post? There's more. Get tons of style secrets, insider shopping dish, fashion news, and more on the Refinery29 Fashion Facebook page!