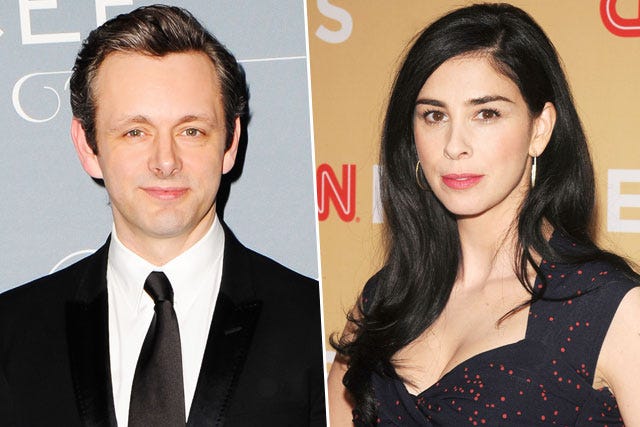 Photo: Everett Collection/REX USA; Picture Perfect/REX USA.
In today's unlikely celebrity couple news,
Us Weekly
reports that the acclaimed British thespian Michael Sheen was seen "making out" with the reigning Queen of Raunch, Sarah Silverman, in West Hollywood.
The alleged new couple were out celebrating Sheen's 45th birthday at Soho House last week, along with fellow celebs Nicole Richie, Kate Hudson, Demi Moore, Sheen's ex-wife Kate Beckinsale, and his Masters of Sex costar Lizzy Caplan.
It's unclear how the two met, so let's imagine how their first encounter went down. Our best guess is that it happened at the after-party for the IFC miniseries The Spoils of Babylon, in which Sheen stars. Silverman, who's had a long-standing working relationship with the network, likely attended the party to pal around with her fellow comedic heavyweights Will Ferrell and Kristen Wiig, who star alongside Sheen in Babylon.
After laughing it up with some IFC execs, Silverman made her way to the bar to reward herself with a stiff martini, where she noticed the dashing Brit at the other end. Recognizing him from the Twilight movies, the always candid Silverman jokingly asked if he was "still with that pale girl in the Chucks," and if not, would he buy her a drink. Sheen then remarked that it's a Hollywood party, and that the drinks are free, so if she's no longer dating "Jimmy Fallon," he'd be happy to order her one and tip the bartender on her behalf. Silverman laughed, Sheen smiled, and that our friends, was that.
Oh, and since we totally made scenario up: Any resemblance between the characters in this picture and any persons, living or dead, is a coincidence. Just to be safe. (
Us Weekly
)