July 4th is moments away, and your guy (be it a friend, boyfriend, brother) literally has worn his Converse Chucks threadbare. Face it: Summer style is particularly difficult on dudes, with tank tops verging on Jersey Shore-like, and cotton button-ups suddenly becoming sweat sponges. We do not envy our male brethren come the warm months, which is why, as Independence Day approaches, we've decided to call in some top dogs. (Or dog.)
In order to upgrade your guy's style for summer, we chatted up
Menswear Dog
, a super-stylish (and heart-stealing...seriously, the pup is a
flirt
) Shiba Inu who is just as dashing as a dog can be. Though he can't give us great advice on the lower half of your dude's frame (sorry, the tail is a bit of an issue), Bohdi gave some serious tips on how to think about dressing for barbecues, summer date nights, July weddings, warm weather workplace situations, and — of course — the beach. With a couple of tweaks and adjustments, Bodhi the Pup went from being just your average dog canine to the irrepressibly cute (and stylish) Menswear Dog.
Advertisement
ADVERTISEMENT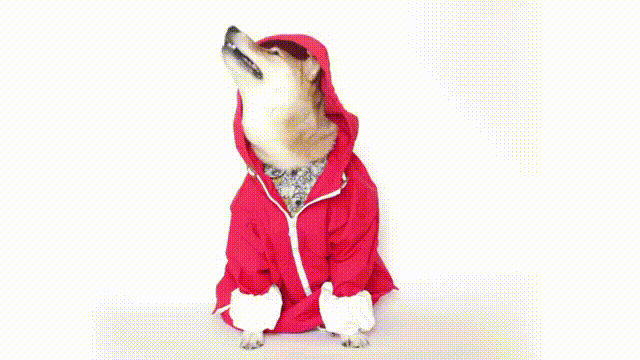 The trick with dressing for a barbecue is to have a couple of light layers. Keep it sharp with a printed shirt that has a collar: It's great for hiding any sort of accidental sauce spills or potato salad accidents (especially if you jump to steal them from the table!). A tighter, more subdued pattern is much better than a larger graphic option (big bold prints on collared shirts make us think of dads).
Pro tip: Bring a simple, all-weather hooded jacket in case of inclement weather. That way, when the temperature dips you — or your date — can be kept toasty. A solid bold color, offsets (instead of clashes with) your tee.
Great: It just so happens that summer isn't just the season of weddings, but the season of being sweaty, stuffy, and generally hot. How do your friends expect you to look dapper when it's practically Amazonian out?
A light cotton blazer is the trick (seersucker is another option, but the material either works for a dude, or it doesn't. There is no middle ground.), and a brighter but not overpowering color is prime. A slim-fit blazer in bright blue can later be worn to work or out, and while we dug the bow tie for Bodhi (because ZOMG it is very cute), a simple black tie may be less stylized.
Advertisement
ADVERTISEMENT

From top to bottom: Men In Cities Black Bow Tie, $40.00, Men In Cities; HE by Mango Bergen Shirt, $69.99, available at Mango; Bar III Cobalt Blazer Slim Fit, $350.00, Macy's.
Beach attire is hard. Looking like a board short-wearing extra from an
LFO
video is no good, but how short is too short? We'd recommend finding a well-fitted pair of trunks (solid colors are best if you aren't feeling adventurous) and just diving in.
However, don't neglect your torso either. It breaks up the outfit. (Just give it an extra dose of sun protection — we don't need to remind you how important that is.). That way, you can embrace your Burt Reynolds, even if you don't have Bodhi's beautiful chest fur hair. Also, we dig the distinctive wooden glasses. At the beach, aviators just seem a little cliché, right?
Nowhere is the plight of the man during the summer more pronounced than his struggle to dress himself for work. It's nigh impossible; shorts are tricky, and socks are restrictive. The best bet is to find a lightweight cotton button-up you are comfortable with and either go for short sleeves, or roll up the cuffs. A summer must: Make sure that your more casual cottons are pressed. No one wants to see your wrinkly wear.
Advertisement
ADVERTISEMENT
The place for experimentation in the office is at the neck. Loosen up your tie game and play around with some patterns. Paisley, checks, and even more silly graphics are totally acceptable, and brighter colors are seasonal, as well!

From top to bottom: Barton Perreira, Lawford in Black, $395.00, Barneys New York; Uniqlo, Chambray Long Sleeve Shirt, $19.90, Uniqlo; General Knot & Co., Vintage Navy English Rose Necktie, $98.00, General Knot & Co.
Showing up to a date wearing cut-offs and a band T-shirt is definitely okay...if you are a cut-offs and band T-shirt type of guy. But if you are trying to make a good first impression while simultaneously hoping to stay cool (literally and figuratively), a smart shirt and a good pair of slacks is absolutely unflappable.
Of course, you'd take your hat off while eating but the tie/hat combo is so classically Beastie Boys, it just works — no matter the season.
From top to bottom: Publish, Seely Paisley 5-Panel Hat, $46.00, Urban Outfitters; Uniqlo, Men's Print Long Sleeve Shirt, $29.90, Uniqlo; General Knot & Co., Deadstock Barber Stripe Skinny, $98.00, General Knot & Co.
Edited by Christopher Beer; Video by Nora De Broder; Styled by Willow Lindley; Styling Assistants: Hayden Manders and Rachel Besser.
Special thanks to Dave Fung and Yena Kim!