Is it already obvious that we're all about super-laidback cooking at Refinery29? You may have noticed from our embarrassingly easy three-ingredient dinner recipes, like this
Tuscan salad
and
French market chicken
. But, you know what? We love that you can whip up a fabulous meal using only the essentials in your pantry — salt, pepper, and olive oil — and a few simple ingredients! Which brings us to this yummy recipe...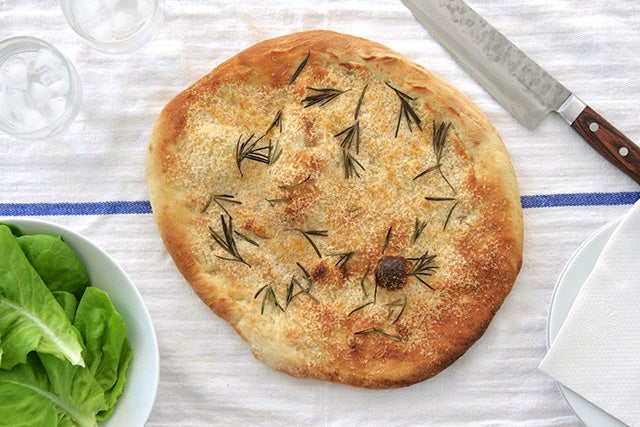 Photo: Courtesy of Erin Phraner.
Three-Ingredient Pizza Bianca
On the menu this week: Pizza Bianca, an almost-naked homemade pie with lots of Parmesan cheese and rosemary. We love buying fresh pizza dough from our local slice joint — they usually charge under $5 for a ball — but you can also find it at most grocery stores, refrigerated or frozen. Oh! And, forget about using a fancy pizza stone (because did you really have room for one of those anyway?). An upside-down baking sheet works just as well.
Ingredients
Serves: 2
1 pound fresh pizza dough or frozen pizza dough, thawed
2 to 3 sprigs rosemary, leaves stripped
1 cup finely grated Parmesan cheese, plus more for topping (optional)
PANTRY STAPLES: Extra-virgin olive oil, kosher salt, and freshly ground pepper
Put an upside-down baking sheet in the oven and preheat it to 475˚F (convection, if possible) or as hot as you can get it — this will help the crust get super crispy.
Put the pizza dough on a large piece of parchment paper. Working outwards, press and stretch the dough into a 1/4-inch-thick circle using the tips of your fingers. Drizzle with one tablespoon olive oil and season with 1/4 teaspoon of both salt and pepper.
Sprinkle the Parmesan cheese and rosemary leaves over the crust. Remove the upside-down baking sheet from the oven, slide the pizza (on the parchment) on top and return to the oven. Bake about 10 minutes or until the crust is golden. Top with more Parmesan, if desired.
Note: Want to do a little more? Serve it with a leafy-green side salad, add sliced garlic to the pizza before baking, and wash it all down with your favorite white wine, orange wine, or lambrusco!