Photo: Courtesy of La Prairie.
Introducing Worth It, the series where we personally test-run some of the more oddball, high-priced, or hard-to-find products to determine whether they merit the effort or the cash. Here, you'll find a no-BS rundown of some of the beauty buys you've always wondered about, from wacko ingredients to buzzy, new tools.
Eye cream is one of those things that we really want to believe in. As we get older (and tired and stressed and all that stuff that comes from living an adult life), our bodies take a hit. Unless you're a genetic anomaly or have some kind of wildly stress-free career like "massage tester," your eyes are likely going to be the first casualties. Both windows to the soul and reflections of our lifestyle, our eyes are surrounded by baby-thin skin that tends to overreact to all these elements, so the point of this type of cream is to provide that extra TLC, tackling sagging, spots, puffiness, crinkles, and the dreaded crow's-feet. But, with all that magic comes a price, and it's usually a lot higher than your regular moisturizer — so much so that I've never once used an eye cream until this story.
But, now that I have, I'm never going back.
I'm not here to turn back the clock. I'm 30 and that's A-okay. But, in the last year, things have gotten busy. It's all the good kind of busy: I got a promotion that allows me to write bigger, badder stories for you guys to read. I got a book deal, which means I spend nights and weekends writing about my ridiculous life (which, frankly, I hope you guys will read as well). And, this being the year I turned 30, so did all my friends, meaning there is rarely a weekend not occupied by someone's historic #YOLO celebration.
I woke up one morning looking less like 30 and more like 300. Sleeplessness and stress had punched me in both eyes, and I was sagging, spotted, puffed, and beset by the early signs of crow's-feet — something I've been dreading ever since seeing a particularly ominous Oil of Olay commercial at the age of 8. Worse yet, the light, horizontal line beneath my left eye that cropped up in my mid-20s (after years of sleeping on my side) had deepened into a crevasse, a battle scar in the war on sleep. It was time to try the good stuff and see just how good it really was.
This called for a go-big-or-go-home attitude, so I decided to test out the
La Prairie White Caviar Illuminating Eye Cream
. Reviews tout this stuff as capable of long-term impact on current damage, rather than just reducing its appearance with extreme moisture and light-diffusing additives. That's important, too, but if you're going to shell out $360 for a jar of cream, I think that cream should work its ass off for you.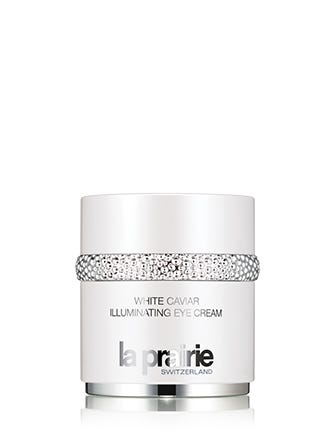 Photo: Courtesy of La Prairie.
Following instructions, I applied a small dab of cream under my eyes first thing in the morning. I expected (and kind of hoped for) something super-rich and thick, but this stuff is light and melted right into my skin. This being the absolute fanciest thing I've ever put on my face, I actually thought I'd see a difference immediately and was not-so-slightly disappointed when I didn't instantly have the eyes of an animated princess staring back at me. Then, I remembered I was an adult and went on with my day.
Sometime during the afternoon I popped into the ladies' room and noticed that the afternoon crepiness I'd suffered of late was pretty much gone. Not a huge shocker considering I'd added an extra level of moisture to the area, but it definitely made a difference.
I added another dab of the cream
before bed
, and when I woke up, after another night spent burning the midnight oil, I really began to see what eye cream was all about. I'd gotten little sleep, but rather than looking puffy, dry, and irritated, my eyes appeared relatively rested. I was sold in 24 hours, but it only got better.
The short-term effects of the La Prairie cream were great. It definitely helped me fake looking rested, which is almost as good as actually being rested. But, over time, I saw results that I'd thought were too much to hope for. The little lines developing around my eyes appeared to recede. I could still find the horizontal crease (previously known as Pillow Scar), but I had to angle my face in a certain way to really see it. The little spots of discolorations, though they never disappeared, didn't stand out as much. And, the skin just felt better. I looked better, overall. I won't say that I peeled away years of stress and staying up late — I still looked 30 because I am. But, I'd rather look my age than my age plus 270.
Any product that preaches time travel is just tacky and should be avoided on principle. But, this summer I learned that a good-quality eye cream really can help abate the necessary evils of life, at least in regards to marks they leave on your face. Is it an investment? Absolutely. I don't know that I'd tell a 22-year-old to drop $360 on any skin-care product (even if I knew a 22-year-old who somehow had $360 to drop on beauty products). But, for those of us who are straddling that age where it's about both preventative and reparative skin care, eye cream is an excellent place to start.
I still use Cetaphil and drugstore hair products. I still live with a roommate and brown-bag my lunch (usually). I'm not a fancy lady. But, after this experience, I might save up to let my eyes be fancy ladies. They're what people look at when they talk to me, and they're the first thing I notice when I look in the mirror. Maybe it seems a little silly or frivolous, but my eye-cream routine made me feel better about both those things. For that, I'd say, it's worth it.