Just when we thought we'd never stud again, Valentino's metal-embellished shoes and bags came around and forced us to eat our stud-denouncing words. No longer relegated to the rock-'n'-roll chick alone (although, that still works, too), the Valentino details add even more sophistication to a classic and simple silhouette.
Naturally, we were inspired to flex our DIY muscles and got to work on our own interpretation — and we have to say, we're loving the results. For this easy and quick project, just grab a plain leather clutch and then follow us as we show you how to totally transform it.
What you'll need:
A plain leather clutch
About 150 silver pyramid studs (depending on the size of your bag and studs)
A pair of needle-nose pliers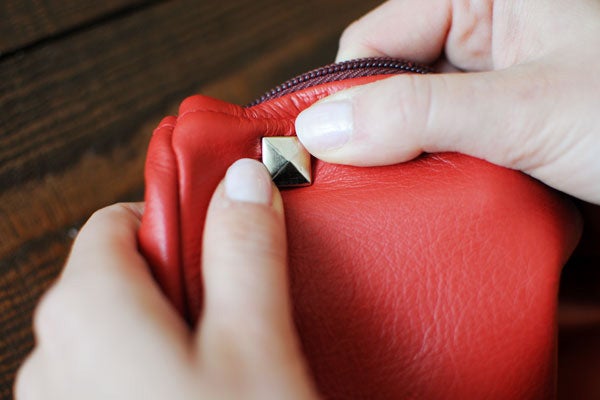 Step 1: Position your first stud in the left corner about a half-inch away from both sides. Press the prongs through.
Step 2: Use your pliers and flip the prongs back to attach the stud to the inside of your bag.
Step 3: Use a loose stud to measure the distance between the first stud and the next. Attach the next stud.
Step 4: Continue working horizontally, making sure to leave a full stud's space in between each.
Step 5: When you reach a corner, make a sharp turn and continue studding down the new side.
Voilà! Now toss your phone, keys, and cards in there, and go outside!