When it comes to your home decor, you want it to be a reflection of your personality — the good parts, not your neuroses, claustrophobia, inability to stop dating musicians, and lack of knowledge of basic geography (hypothetically speaking). The following decorating mistakes are the in-house equivalent of all that bad stuff. Ahead, top decorators fill us in on the no-nos they see constantly, and what you can do to avoid them in your space. That dating stuff? You're on your own there.
Photographed by Michelle Drewes.
"The scale of all the objects in a room doesn't work."
"You need to ensure that the seat heights of upholstery furniture are similar, and the scale of all the items in a room relates well to one another. For example, we don't want a giant sofa that could crush the little chairs sitting next to it."

-Kriste Michelini, Kriste Michelini Interiors
"Furniture that, once you get it home, won't get through the door."
"Make sure to measure all doors, elevators, and stairwells that your furniture will have to pass through during the installation process. The piece might be gorgeous, but that won't matter if you can't get it into your space!"
-Amy Lau, Amy Lau Design
Photographed by Aaron Wojack.
"Hanging art too high."

"I think art should be hung at the eye level of a petite person. Taller people can just crouch a bit. If we could lower 99% of the art in the world about three to five inches, it'd be a much chicer place."
-Michelle R. Smith, Studio MRS Interiors
"Most folks go too small with rugs."
"Always try to go for as large a rug as possible — it visually expands the space. [A rug] should cover about 75% of the floor."

-Miles Redd, Miles Redd
"Being over-reverential to natural wood finishes."
"There are so many dreary stains and shades that would look better with a fresh coat of paint!"
-Nick Olsen, Nick Olsen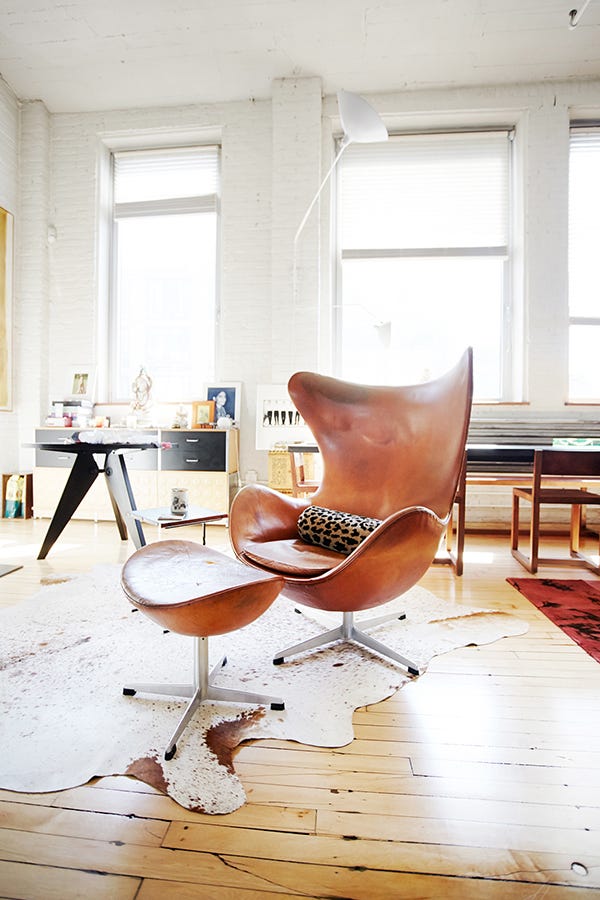 Photographed by Winnie Au.
"People have the tendency to push their furniture against the walls."
There's a warmth to pulling things away from the walls; it gives the room a feeling of energy. Be more conversational with grouping your furniture — the traditional set-up is a sofa, two chairs, and a coffee table. If your room is small, try three large lounge chairs facing each other around a circular coffee table. It helps to do a furniture plan before you buy anything, just a simple drawing that's roughly to scale."
-Betsy Burnham, Burnham Design
"Not spending enough money — or spending too much."
"Figure out how much you have to spend, and what things cost. It helps you decide where to spend your money. If you want to invest in a great sofa (because I'd rather people get good-quality, classic stuff that will last), you can plan ahead. This way, each year you spend X amount of money. And, you know where you have to cut back if a great splurge comes along. Because, look, rules are made to be broken!"
–Kathryn M. Ireland,
Kathryn Ireland Textiles & Design
Photographed by Mindy Best.
"Not hanging a window treatment properly."
"Architects may disagree, but I (almost) always hang draperies and Roman shades from just below a molding or ceiling to elongate a room. Draperies should at least kiss the floor."
–Alli Lynner Gilbert, ALG Interiors
"Not bothering to look at paint colors in the actual light of the room they're going in."

"It's the most-given-out advice designers give, and among the most-ignored. But, colors really do change — dramatically — according to the light in the room and time of day."-Elaine Griffin, Elaine Griffin Interior Design
"Thinking it has to be done all at once."
"Wait for the right thing! Otherwise you're going to be living with those impulse decisions for a long time."
–Alessandra Branca,
Branca Interiors