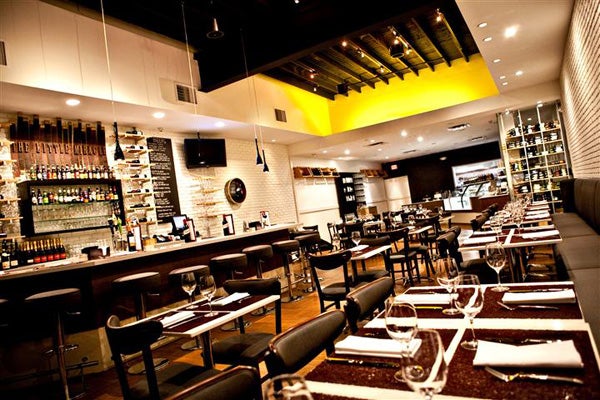 Tucked away miles from the hustle and bustle of Brickell's one-way streets and South Beach's party-goer enclaves sits Coral Gables, Miami's own "City Beautiful." While this Miami pearl fails to provide the bumping house beats and neon lights that Miami is most widely known (because, quite frankly, they choose not to), the 'hood has it's own unique charm.
Coral Gables Restaurant Week
is still no Miami Spice, but it is officially bolded in our calendars.
Starting today and going through the June 17, this goldmine of a fest brims with mouth-watering dishes that will leave your palates and wallets simultaneously (and unusually) at ease. No matter your foodie fetish (bacon-wrapped salmon, anyone?), you'll surely enjoy a few culinary travels with three-course meals for under $40. Whether you're down for lunch with the gals or having a romantic dinner, we've scoured through the list and chosen the top trio we deem worthy of chowing down on. Munch on, Miamians. Munch on.
Angelique EuroCafe
While an actual European Riviera might leave you low in funds, a delectable taste just starts at $29. For all you jetsetters out there, Angelique EuroCafe boasts two different dinner menus for Coral Gables Restaurant Week (CGRW for short). With killer dishes inspired by the tastes of Spain, France, Italy, and Belgium, you can nosh on Coq au Biére or Moules Frites Chorizo in one sitting.
Angelique Euro Cafe, 117 Miracle Mile; 305-528-9922.
Mesa
From the gastronomic imagination of chef Elida Villaroel comes Mesa, a culinary adventure through the flavors of Venezuela. Start off your appetite with creamy polenta with Gruyere cheese and then sink your teeth into bacon-wrapped salmon served with a spiced carrot puree. And if you really want to culture your sweet tooth, indulge yourself in a
quesillocriollo
with caramel sauce.
Mesa, 264 Miracle Mile; 305-443-3003.
The Local
While The Local pretends to be a casual hideout for those looking for an off-beat happy hour and some good ole' craft beers and wines, its seems to be a fave of almost every Miami foodie blog — as well as
Esquire
— for having one heckuva beer selection. Come for the suds, stay for the brie mozzarella sticks, roasted chicken thighs with sweet corn polenta, and dulce de leche panacotta, all for under $40.
The Local, 150 Giralda Avenue; 305-648-5687
Photo: Courtesy of Angelique EuroCafe